It is true that the Internet is a window to the world and knowledge. And almost everyone has their name and place in the social networks that the web provides people. The motivations are colorful and can almost always get something positive out of our contact with others, but sometimes there are undesirable effects which can seriously harm us. From possible scams to attacks on our privacy, which are very serious, to small brushes with our partner that can become a difficult obstacle to overcome.
Everything depends on our personality and performance in the network. And also if we believe appropriate and even necessary to have the opinion of the closest people, starting with our partner on the communication policy we use in our social media accounts. Much more if you are too transparent or communicative and you tend to count in your last fight on networks or writing love poems that everyone can see. And both must agree on how to share if you wish so.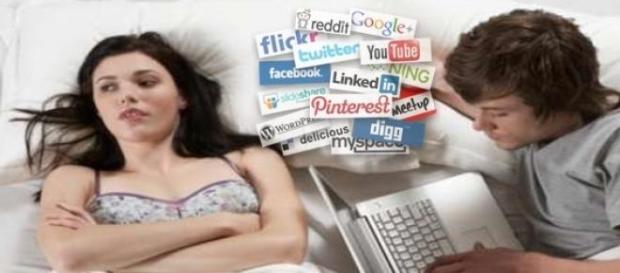 The fact is that when we compare married life and social networks it should be recalled that the Cyber ​​Psychology and Behaviour Journal published in 2013 a study according to which, since 2004, year of the creation of Facebook, the popular social network has been the cause of 28 million breakups in the world. It is not the only study on this phenomenon.
A doctoral thesis by a doctoral student in the School of Journalism at the University of Missouri revealed, after interviewing nearly 600 people, that the most active users on Twitter tend to have conflicts with their romantic partners, leading in some cases to infidelity, separation and divorce.
What affects it? Serve as examples in the latest study people who asked basic questions about the weather in this social network, the frequency with which they published messages, or check their timeline and interact with other users through direct messages or public responses. What's going on? Why are so many breakups caused by the internet?
Drop the phone once! Nothing should matter more than reality, what affects you and the people you care about at this time.
In the here and now. And there may be no more exciting life than that which can change from the immediate. And at the same time, is there anything more annoying than trying to have a conversation with someone who is constantly on their mobile and slope social networks? If you are more interested in sharing what you do with your contacts than hang with them know what it is telling you here and now your partner are sending a clear message of what your priorities.
Rate the article and leave comments below.

Click to read more
and watch the video