Watch as 7-Eleven customer goes berserk, trashes southern California store
Rate this title
A customer was turned down after requesting after-hours alcohol in a Santa Ana store, leading to a mad rampage and plenty of damage.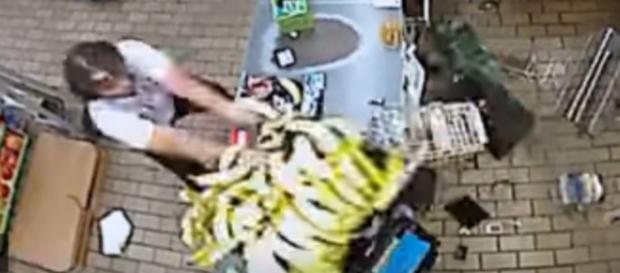 A man badly wanted to buy beer in Santa Ana one night, which led to him first being refused and then trashing the store that had denied him his wishes. The violent incident happened at around 2:30 a.m. on August 25, but Santa Ana police have on Tuesday released surveillance video of a customer who went berserk and trashed a Southern California 7-Eleven store and assaulted employees by throwing things at them. Police hope that by releasing the video, this will allow them to identify and arrest the suspect who caused around $2,000 damage to the store.
Police say the bearded man entered the 7-Eleven, demanding alcohol after hours and was turned down by a store employee.
According to police, the man also asked to use one the staffer's personal cellphone, but was turned down for that too.
Customer becomes more agitated in 7-Eleven store
As reported by the OC Register, this led to the customer becoming more agitated in the store on South Bristol Street and he started flashing money at the store's employee, again trying to get the staffer to sell him alcohol. Santa Ana Police Corporal Anthony Bertagna said that as it was after 2 a.m., the liquor in the store was all locked away, but the customer was insistent, feeling he was entitled to purchase alcohol. He said the employees continued to refuse to sell him alcohol and that everyone can see on the video footage what he did.
Surveillance footage shows customer going berserk
In the surveillance footage included here, the suspect tries to open the door of a beer refrigerator, but it was locked.
The bearded man can then be seen arguing with store employees close to the front door, insisting that they sell him beer. After not getting his way, the suspect then runs back into the store and begins smashing and pushing over a number of displays, including a large basket of bananas and other items displayed on the counter.
Crazy customer smashes the windows of the 7-Eleven
After a clerk chased the suspect out of the store by wielding a stick, Bertagna said the man then briefly did leave the store, but came back with a pipe or rod, which he then used to smash the massive storefront windows of the 7-Eleven store. According to the New York Daily News, police calculate the damage caused by his violent rampage to be worth around $2,000 and they are seeking the public's help to identify the suspect. If found and arrested, the bearded man is likely to face felony vandalism charges along with assault and battery charges for throwing various items at the employees of the 7-Eleven.
Click to read more
and watch the video
or