'No Game No Life Zero' movie screening for two days in U.S.
Movie theaters in the U.S. gets ready for No Game No Life Zero anime movie that will run for two days.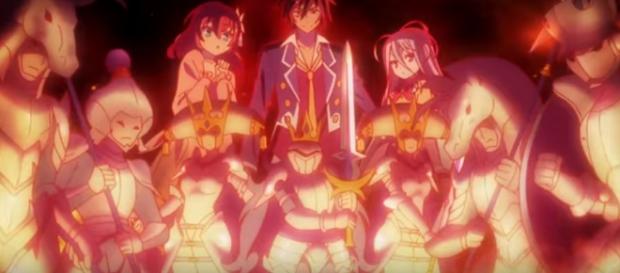 Sentai Filmworks announced its plan with Azoland Pictures and Fathom Events to present the anime film "No Game No Life Zero" for two days in the U.S. in October. The press release also unveiled the motion picture's release will feature the original anime with its Japanese audio and English subtitles.
"No Game No Life Zero" will be first seen in movie houses on October 5. Meanwhile, Sentai Filmworks' English dubbed version will premiere on October 8. The attendees will also see special video content featuring the film cast and the crew of "No Game No Life Zero."
What awaits Sora and Shiro in the new film?
Crunchyroll described the film as a story that had occurred thousand years before Sora and Shiro were born.
A war which broke out dismantled the earth and threatened the lives of the human race. A young man named Riku deems that the remaining survivors can get through the war-led humanity.
Riku was in the ruins of an Elf city when he happened to meet Shivu, the female android who wanted Riku to tell her about the significance of having a human heart.
On the other hand, the original Yu Kamiya novel series centered on the life of the brother and sister, Sora and Shiro, who masked their identities as "Blank," an unbeaten duo of game geniuses. The game god challenged the siblings and lost. As a result, the god brought Shiro and Sora to Disboard, the real world that revolved around games. The siblings decided to conquer the sixteen ruling species and remain undefeated.
Cast, staff and important dates
Aside from the first release of "No Game No Life Zero" in film houses, the anime distribution companies will also introduce the movie at an event in Los Angeles known as the Anime Film Festival.
The motion picture adapted from the original "No Game No Life" series will premiere in North America in on September 17.
The anime with Japanese voice voice-and English subtitles will get featured on September 16 while its English dubbed recordings will hit the movie theaters on September 17.
Kyle Colby Jones, the director of numerous TV anime series and the TV anime version of "No Game No Life," will be the director for the film. Meanwhile, the voice actors include Scott Gibbs, Shannon Emerick, Kira Vincent-Davis and Caitlynn French.
More details regarding the upcoming event will be announced soon. The announcement will include the list of theaters where the movie will get shown as well as other information.