Missing Ohio woman found stored in freezer allegedly by boyfriend
Rate this title
New lover moved into apartment with boyfriend and took over deceased woman's life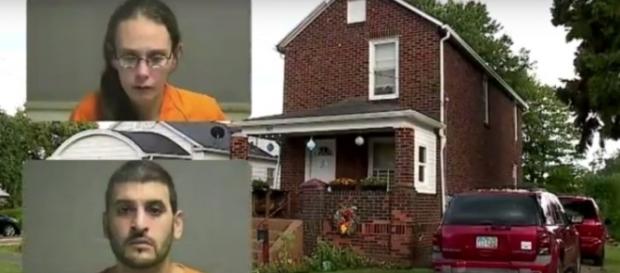 Arturo Novoa, 31, and Katrina Layton, 34 were arrested, charged, and ordered to post $1 million bond for alleged corpse abuse near Youngstown, OH. Authorities believe Novoa stored the body of 28-year-old Shannon Elizabeth Graves, his girlfriend, in a freezer. Graves' family reported her missing in June, but the last time she was seen by friends was in mid-February.
The Cuyahoga County Coroner's Office has identified the body as Graves, according to WFMJ. She was transported to the coroner's office for forensic examination using dental records. Youngstown prosecutors are awaiting the outcome of the forensic exam, in addition to the police investigation, to decide whether to file additional charges, possibly, against more people.
The results and knowing the cause of death will factor into the prosecutors' decision.
Accused boyfriend's new lover assumed deceased woman's life
The last time Graves was seen alive was in February in the basement of a home belonging to one of Novoa's friends. Two weeks following her disappearance, Layton moved into the Graves' apartment with Novoa. She also allegedly took over Graves' life and her "belongings," according to Dana Lance, Youngtown City Prosecutor, WNEP reported. Layton reportedly began driving Graves' car, started taking care of her dog, and began using her credit cards and cell phone.
At a bond hearing in Youngstown Municipal Court on Monday, Lantz told Magistrate Anthony Sertick that the apartment where Novoa and Layton were living together since February actually has a lease in Shannon Graves' name.
Graves missed her own birthday, along with Easter and Father's Day, according to her sister, Debbie. WKBN also noted that Debbie said it was out of character for Graves to "be gone so long" and without contacting anyone in their family.
Accused corpse abuser allegedly far from truthful
Novoa asked Ken Easenbaugh, his friend, for a favor and to store the freezer for him at his home in Campbell, OH. However, when Easenbaugh first met Novoa four years ago through a mutual friend, Novoa was introduced as Anthony Gonzales, according to WFMJ.
Novoa (as Gonzales) allegedly told Easenbaugh that the power was off at his home and that he was worried some meat in the freezer might thaw. Easenbaugh agreed. Novoa and another friend took the freezer to Easenbaugh's home at night. The two took the freezer through a back door to the basement. Three days later, Easenbaugh's wife noticed that the freezer had a padlock and was secured.
Making spaghetti and meatballs led to gruesome discovery
After sitting in the Easenbaugh's basement until July 29, the freezer sat untouched, according to WFMJ.
When Easenbaugh's wife wanted to make spaghetti and meatballs, she decided to borrow some meat from the freezer. She planned to replace the meat later.
She told her husband that she removed some screws securing the freezer with a padlock. When she opened the door, she reportedly saw a large garbage bag. She replaced the screws and called her husband.
Easenbaugh opened the freezer when he got home and realized that the contents of the bag were frozen solid. He used a knife to slice open a part of the bag. He made the grisly discovery seeing a human foot. That's when he called 911.
Police arrived at the Easenbaugh's Campbell home. Within 24 hours, police arrested Novoa and Layton, WFMJ reported. Lantz stated, in court on Monday, that Novoa claimed he didn't know anything about the body inside the freezer. When Novoa was arrested, however, he had the keys to the padlock. Lantz also informed the court that Novoa's live-in love interest, Layton, had purchased the freezer where the body was stored.
Novoa and Layton will appear in court next week when they have a preliminary hearing.
Click to read more
and watch the video
or