Two years after little girl's body found in family freezer, Florida mother sentenced.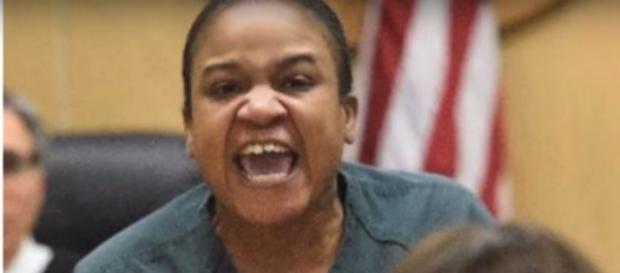 Circuit Court Judge Susan B. Maulucci sentenced Keishanna Thomas, 33, to 65 years in prison after the defendant accepted a plea bargain and pleaded no contest to second-degree murder in a Manatee County, FL, court yesterday. The Bradenton mother of four admitted that she abused, killed, and hid her 11-year-old daughter's body in a freezer in 2015.
Thomas was also sentenced 15 years for aggravated child abuse (against her son) and five years for abuse of a corpse. Her sentences will run concurrently. She will also be credited for time already served.
Prosecutor says plea agreement best for society and little girl's siblings
Thomas was slated for her criminal trial to commence later this month, when she would have faced a first-degree murder charge for the death of her daughter, Janiya.
Art Brown, a state prosecutor, said the plea deal and the sentencing assure that Thomas is removed from "society for the remainder of her life," according to the Sarasota Herald-Tribune. Her plea bargain also spares her children from enduring more trauma as an effect of not having to testify and reliving the "horrific series of events," Brown said.
The case started in September 2015 after Janiya's 12-year-old brother stole candy from a Walmart store where Thomas was employed. Her son was injured from Thomas hitting him repeatedly. A physician stated that her son's injuries were "consistent with abuse," according to the Herald-Tribune. Though child welfare authorities picked up three of Thomas' children, they could not locate Janiya.
Mother starved little girl
Bradenton officials issued a missing child alert for Janiya in October 2015.
When Thomas refused to tell law enforcement where Janiya was, she was taken to jail for contempt of court. The last time Child Protective Service (CPS) workers saw Janiya alive was in June 2014, according to ABC Action News (WFTS). Neighbors reported that Janiya was going through garbage cans searching for food in December 2013. They said she was dirty and her hair was matted.
Thomas' boyfriend didn't know or see Janiya, WFTS reported. When he started dating her in August 2014, she already had a freezer in the family's dining room. The freezer was plugged in, locked, and never opened.
Child-killer mother took great measures to conceal crime
Law enforcement stated that Thomas went to "great lengths" to cover her crime, according to WTFS and her arrest affidavit. She bought the freezer and "stuffed" Janiya's body into a FedEx box. She put the box in the fridge, along with two open containers of baking soda, masking the odor.
Within days of Bradenton police officially declaring Janiya "missing" in October 2015, Thomas' relatives found a body in her freezer, the Herald-Tribune reported.
An autopsy was performed, and the outcome was that Janiya's right leg was broken "several weeks" before she died. Her wrists and her legs evidenced signs of having been bound. Janiya weighed 44 pounds. Authorities believe that Thomas drowned Janiya in the bathroom, the Herald-Tribune also noted.
At her sentencing hearing yesterday, Thomas told Judge Maulucci that she was pleading because "it is my best interest" and that she didn't want to put her children through a trial.
Click to read more
and watch the video
or