'Dragon Ball Super' episode 105 spoilers: Roshi's spotlight, anime's crossover
Spoilers for 'Dragon Ball Super' episode 105 teased that it will focus on the Hermit Turtle. Meanwhile, a DB and One Piece collaboration is revealed.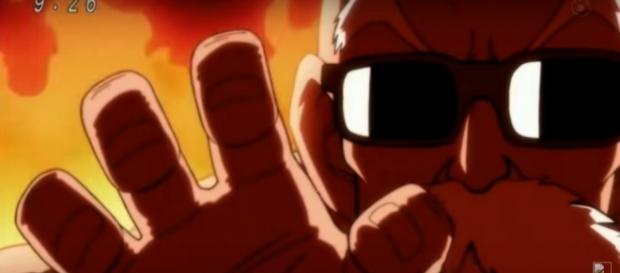 Spoilers for "Dragon Ball Super" episode 105 revealed Master Roshi using a technique that will put his life at risk. "DBS" also announced its crossover collaboration with the anime "One Piece".
The perverted but undeniably strong old man Master Roshi is Goku's sensei, teacher, and master. DB does not focus much on Roshi as the main protagonist Goku, is there to save Earth.
While the Turtle Hermit failed to influence Goku negatively, the old man succeeded in guiding Goku to become stronger. Roshi is one of the many individuals who helped Goku to become so powerful.
Villains use Master Roshi's weakness against him
"Dragon Ball Super" episode 105 spoilers' preview featured Master Roshi in the spotlight. Some races from another universe will likely use an underhanded tactic to lure the old man in a trap.
This dreadful approach may have something to do with girls and Caway will seemingly become the decoy. The mini clip via YouTube also teased a fight between Universe 7 and another Universe. During the battle, the Turtle Hermit will be forced to perform a risky technique that might cost him his life.
Goku tries to stop the old man but Roshi decides to accept the consequence.
Many fans like "Dragon Ball." Since the original series has been televised, it piqued the viewers' interest. The same is true with another famous anime, "One Piece".
"One Piece" is a story about Monkey D. Luffy, a pirate who set off on a journey with his friends to find the treasure One Piece and become the King of Pirates. As the Straw Hat crew went on an adventure, they faced different creatures in battle and their worst enemy, the Marines.
The Straw Hat Pirates crew is composed of Luffy, Zoro, Sanji, Nami, Robin, Usopp, Chopper, Brook, and Franky. Despite the members' differences, they followed their captain Luffy to achieve his goals.
New special crossover collaboration
The two popular anime titles: "Dragon Ball" and "One Piece" will not be collaborating for the first time. The two TV animes, along with "Toriko," had a TV special crossover before. Fans should also take note that the two titles not only had anime collaborations but also did some crossovers on the game adaptations.
"This Fall "One Piece" and "Dragon Ball" will have one-hour specials over one week," reported Otakuart.
The anime's viewers will not only want to see the TV series but also want to know more about "Dragon Ball Super" episode 105 spoilers. The anime also revealed its episode title "Brave Fight! Muten Roshi stakes his Life!!" will release on August 27.