Tennessee wildfires spare statue of Jesus standing in ashes of Gatlinburg home
Statue of Jesus and a burned page from the Bible are symbols of hope amidst the destruction from the Tennessee wildfires.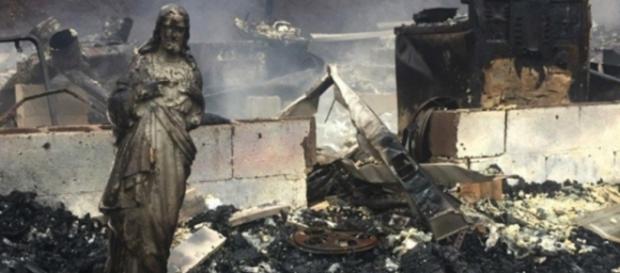 The Tennessee wildfires have left a path of destruction in Sevier County this week, leaving homes and businesses burned to the ground and claiming the lives of at least 10 people. But for the people of eastern Tennessee who are looking for a ray of hope during what Sevier County Mayor Larry Waters calls a "distressing and depressing time," a lone statue of #Jesus surrounded by the ashes of a Gatlinburg home that was burned down in the #Wildfires could be a positive sign.
The Jesus statue isn't the only religious item that survived the Tennessee wildfires
On Wednesday, a television crew spotted the statue of Jesus standing in the midst of a home that burned to the ground in the Gatlinburg area.
The religious statue appeared to be the only thing in the immediate area that was still standing, something WVLT calls "something of a miracle amid the destruction."
And just two days prior to the discovery of the Jesus statue, an employee at the nearby Dollywood theme park found a partially burned page from the Bible's book of Joel. Although the page from the Bible wasn't fully intact, Dollywood employee Isaac McCord pointed out in his Facebook post that the words from the first chapter were visible.
"I just found this while helping our House and Grounds team clean different areas of Dollywood Theme Park," McCord wrote on his Facebook page. It was under a bench soaking wet. Talk about goosebumps...."
Although it might not be considered a miracle, the 24 hours of soaking rain that fell in Sevier County on Tuesday night and Wednesday was more than welcome and helped extinguish some of the fires.
As of Thursday evening, NBC News reports that the death toll from the Tennessee wildfires now stands at 11 as crews continue to sort through the rubble of at least 700 buildings in Sevier County, including 300 homes and businesses in Gatlinburg. More rain is expected this weekend.
A statue of Jesus is the only thing standing after this Sevier County house burned to the ground. pic.twitter.com/WGd3B5Y7j0

— Kelsey Leyrer (@WVLTKelsey) November 30, 2016
Gatlinburg City Manager Cindy Ogle announced on Thursday that people evacuated during the wildfires will be allowed to check on their properties on Friday between 10 a.m. and 5 p.m.