Former President Jimmy Carter, 92, is the only former president who has confirmed that he will be attending the inauguration of Donald Trump, who is hoping to start an arms race with Vladimir Putin when he takes office on January 20, 2017. The former president, who is a Navy veteran and graduate of Annapolis, was elected president in America's bicentennial year, 1976. When he was elected, he was a former Governor of Georgia and peanut farmer. His laid back, "folksy" style appealed to average voters, but often was met with scorn by the established, Washington elite.
Carter's political career
After retiring from the Navy as a lieutenant and nuclear engineer, Carter became a farmer and grew peanuts. He and his wife had to take out loans to keep the farm operating. Carter took classes in agriculture and was successful in farming as a result. In 1962, Carter was elected to the Georgia State Legislator, where he served from 1963-1966. In 1966, Carter ran for the Democratic nomination for Governor, but lost to Bo Callaway.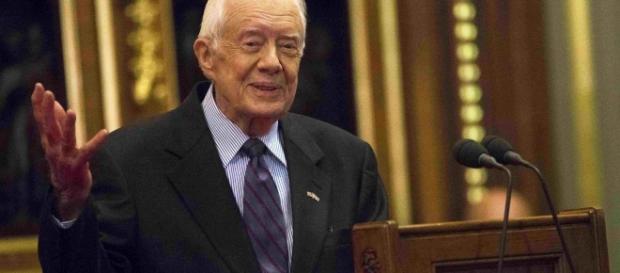 Carter ran for Governor again in 1970 and was elected.
As Governor, Carter stood up against racism, which was very controversial thing to do in the Deep South in the 1970's. He increased hiring of African-Americans for state jobs in Georgia and placed portraits of Martin Luther King and two other African-American leaders in the State Capitol. Carter also pushed through legislation to provide an equal distribution of funds to all Georgia schools, including schools in predominantly poor neighborhoods.
In 1976, Carter presented himself as a formidable Democratic Party candidate against the more liberal George McGovern, who had been defeated in the general election in 1972 by President Richard Nixon. Carter attained the Democratic Party nomination and defeated incumbent President Gerald Ford.
Carter's Presidency
Carter began his presidency by declaring amnesty for all men who had evaded the draft during the Vietnam War. The economy was in dire straights when Carter took office and inflation was running rampant.
Chrysler Motor Corporation was in financial trouble, and Carter bailed the company out. The money later was paid back and with interest.
in 1978, Carter initiated the "Camp David Accords" which was a peace agreement between Egypt and Israel that critics thought would be impossible to attain. The agreement, which also was signed by Carter, was considered a real feather in Carter's cap.
In 1980, the Iran Hostage Crisis ensued. Iran, in retribution for Carter's permitting the Shah of Iran to attain medical treatment in the United States, took 52 Americans hostage.
Carter was unable to negotiate their return, and ordered a failed rescue attempt in which several Americans were killed. Carter was challenged for the Democratic Nomination in 1980 by fellow Democrat Senator Edward M. Kennedy, (Mass.), and barely won the nomination. However, Carter was summarily defeated by Ronald Reagan in the 1980 general election.
Tone down harshness towards China
Meanwhile, Trump has been advised by Former Secretary of State Henry Kissinger to "tone down" his abrasiveness towards China or risk the onset of nuclear war in the South China Sea.
The blunt, purposeful advice comes at the same time that none of the other former presidents have announced any intentions of attending Trump's inauguration. It is doubtful that Bill Clinton will attend the event after he stated recently that Trump "doesn't know much." Clinton concluded his remarks by stating that the one thing that Trump does know "is how to get angry, white men to vote for him," (CBS News, 12-23-16). Judging from some of the things that Former Presidents George H.W. Bush and Bill Clinton have said about Trump recently, it appears that there are at least two angry white men who did not vote for Trump.
Click to read more
and watch the video