Is there really a Fisher-Price 'Happy Hour' toy that looks like a bar for children?
The Internet is going a bit crazy over this item so now everyone wants to know if it is real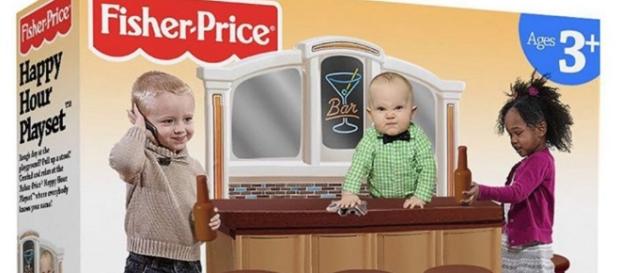 The Internet has been going crazy over this new Fisher-Price item that is being shared. It is a small bar and is called the "Happy Hour Playset." Now everyone wants to know if this is real or if it just being shared. As you can see in the picture, it looks like a bar and three small children are seen hanging out at it.
So is this "Happy Hour Playset" legit and can you buy it?
It turns out that Fisher-Price has been getting a lot of calls about this playset and people are not happy about it. This actually looks like it has small little beer bottles that are children's size. It turns out that the picture was created by Adam Padilla, owner of a New York City-based branding agency.
He simply used Photoshop to make the picture. It was posted on Instagram and then went viral right away. There are a lot of people sharing this bar on their social networks.
So why did this go viral? Well, comedian Amiri King shared it with his 2 million Facebook followers. As soon as Amiri shared it, then it went nuts and was shared all over. Now Fisher-Price is getting a ton of tweets and messages about it. People do not feel like it is right for kids to have a toy like this and they aren't doing their research. They are not checking to see if this is real or not before they go crazy telling off Fisher-Price about the "Happy Hour Playset."
They are answering and making sure everyone knows "this product is not endorsed, produced or approved by Fisher-Price." They do not want anyone thinking this is real and they are doing damage control now.
There are some parents really upset and other parents were hoping to get one for their children or as a gag gift for a friend.It doesn't look like anyone will be able to actually buy one now, though.
Are you glad to hear that the "Happy Hour Playset" isn't real? Did you think this was a legit toy for children? Sound off in the comments section below on your thoughts. Hopefully, this will die down soon and everyone will realize that Fisher-Price would never make this kind of toy. #FisherPrice, #HappyHour