Fox News host calls out network for Donald Trump 'victory lap' hypocrisy in awkward moment
In a rare moment away from conservative opinion, a Fox News host put his own network on blast for taking a hypocritical stance to Donald Trump.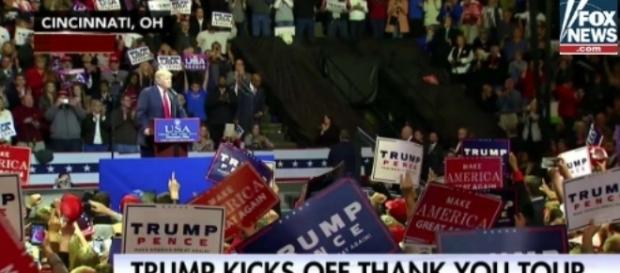 It's not everyday that a host on a cable news channel calls out the network's hypocrisy, but for one day on #Fox News, it happened. After #Donald Trump kicked off his "victory tour" in Cincinnati, Ohio on Thursday night, an awkward moment took place on Fox News.
Trump victory tour
Not long after Donald Trump defeated #Hillary Clinton to become the new president-elect, plans were already underway for a celebration tour of all the states that the billionaire real estate mogul won in the election. The event became such high priority, that Trump's legal team attempted to postpone the Trump University fraud case in order for the tour to take place, which the president-elect eventually settled in the amount of $25 million dollars.
The tour was a hot topic across all of cable news Thursday night, including the December 1 edition of "The Five" on Fox News.
(Gutfeld's comments start at 2:40 in the above video.)
Fox News has long been known for their conservative opinion shows, and "The Five" is no different. With the occasional liberal voice thrown in from time to time, most of the co-hosts on the show have right-wing leaning political views. As the four other co-hosts spoke about Donald Trump and his "victory tour," co-host Greg Gutfeld surprised the conservative viewers by taking a shot at the network for their apparent hypocrisy. "If Obama did a victory lap, this network would explode. We would be frothing," Gutfeld said, before adding, "We'd have pitchforks running down Pennsylvania Avenue!"
.@realDonaldTrump earlier: "Now is not the time to downsize our dreams, but to set our sights higher than ever before for our country." pic.twitter.com/Y8jF21ENWJ

— Fox News (@FoxNews) December 2, 2016
Trump's vision
As the aforementioned "victory tour" took place, it became clear that Trump's celebration would be more of the same that took place on the campaign trail.
The speech was filed with the usual talking points, though the former host of "The Apprentice" did make one announcement worth noting. Gen. James "Mad Dog" Mattis will be the next Secretary of Defense, in a move that was well received by those in the audience, and considered a more moderate pick when compared to the likes of Breitbart News' Steve Bannon, Betsy DeVos, and retired Gen. Michael Flynn.
Over the next six weeks, Donald Trump will continue to work with his transition team, led by Vice President-elect Mike Pence, to fill out the rest of the open spots in the cabinet. On January 20, Trump will be sworn in as the next commander in chief, and the country will officially move in a drastically different direction.