Europe warned of possible Christmas attacks nearly a month ago
Truck plows into Christmas market, killing nine and injuring over fifty people.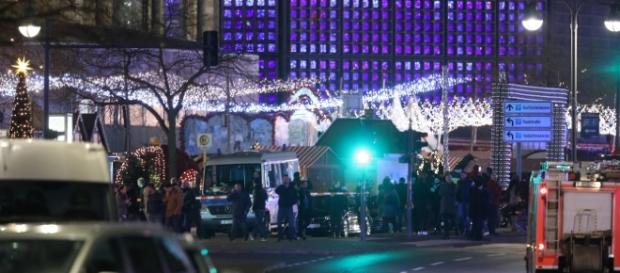 Shoppers in the German capital of Berlin ran for their lives today when a large truck raced into a crowd gathered around booths near the Kaiser Wilhelm Memorial Church. One witness told CNN that there was no way this was an accident. The apparent attack on the #Christmas markets comes a month after the State Department warned U.S. citizens to be on the lookout for terrorist attacks in Europe. Citizens were urged to exercise extreme caution, particularly at events, holiday festivals, and outdoor markets. Police have reported that at least nine people have died and over 50 have been injured from the incident. Some were crushed beneath the truck's wheels.
Intelligence agencies alerted Europe of the possibility of a wave of ISIS terrorists attacks leading up to Christmas and this latest attack came one hour after a Russian ambassador was assassinated in Ankara. According to eye-witness accounts, the truck was believed to be going at least 40 mph when it jumped the sidewalk and rammed into a crowd of holiday shoppers. The terror attack is similar to the one which occurred in Nice, France on Bastille Day, leaving 80 people dead and over 400 injured.
Tis the season to be on high alert
As Europe continues to becomes a bull's eye for terrorist threats, Great Britain's intelligence agency MI5 fears these atrocities will occur on their streets, especially in areas where massive casualties are sure to happen. For the most part, UK agencies have been quite good at taking preventive measures.
Unfortunately, the targeting of Germany's Christmas markets does not come as a surprise.
The fight against terrorism in Europe and the rest of the world
Fortunately, the police have uncovered a sub-machine gun and at least four handguns from today's attack. The driver of the truck, which had Polish license plates, tried to run but was captured and is being detained. A passenger riding inside the vehicle was pronounced dead at the scene. While German Christmas markets may be very popular, they are quite vulnerable to attacks. #Buzz #Terrorism