Donald Trump kicks off 'victory tour' with frightening outlook for the United States
Donald Trump just started his victory celebration tour and gave a message that is making many on the left cringe.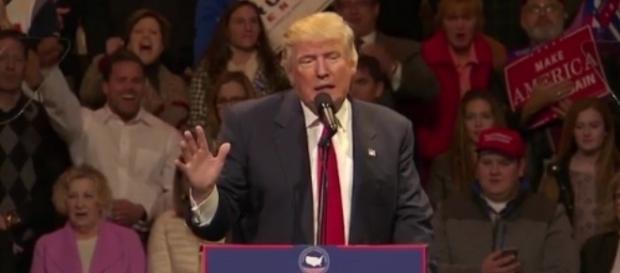 No one thought it could actually happen, but #Donald Trump defeated Democratic nominee #Hillary Clinton and is the new president-elect. Less than three weeks after Election Day, Trump kicked off his "#victory tour" to celebrate his upset win on Thursday night.
Trump victory tour
Most of the mainstream media and the majority of the political pundits didn't think Donald Trump could pull it off, but the former host of "The Apprentice" will soon become the next commander in chief. On Thursday night, Trump made his way to address a crowd of supporters in Cincinnati, Ohio. Trump outlined his vision for the next four years, and while his supporters were thrilled with his words, his critics were left worrying about the future.
As reported by ABC News on December 1, Trump elaborated on his vision.
Pres.-elect Trump: "We are going to appoint 'Mad Dog' Mattis as our Secretary of Defense" https://t.co/Mzxkm9GuYA https://t.co/lYg8MDjmmM

— ABC News (@ABC) December 2, 2016
Donald Trump officially announced that Gen. James "Mad Dog" Mattis will become his new Secretary of Defense, as the announcement caused the crowd to erupt in applause. Trump duplicated what his campaign rallies typically sounded like, hitting back at the media by calling them "dishonest," which also went over with the supporters in the crowd.
President-elect @realDonaldTrump: "We pledge allegiance to one flag, and that flag is the American flag." pic.twitter.com/6wV8TCiVq1

— Fox News (@FoxNews) December 2, 2016
The billionaire real estate mogul said he would not walk back his stance on immigration, promising to shutdown entry into the United States from countries that can't be properly vetted.
Donald Trump claimed that refugees were "pouring" into the United States from the Middle East, a statement that has been debated, and often debunked by fact-checkers.
Trump praises women at Ohio rally: "Hate to tell you men, but generally speaking, they're better than you are" https://t.co/rNmUSohAjM pic.twitter.com/56AFJfQHgc

— CBS News (@CBSNews) December 2, 2016
Trump even doubled down on his recent controversial tweet about punishment for people who burn the American flag, calling once again for serious "consequences." The act of flag burning, whether one supports it or not, is protected as freedom of speech under the First Amendment. Shouting off his routine talking points and favorite campaign lines, Trump said he would "drain the swamp" and "Make America great again."
Pointing to the back of the arena, Trump calls out "the extremely dishonest press" https://t.co/rNmUSohAjM pic.twitter.com/IHht5kOJWJ

— CBS News (@CBSNews) December 2, 2016
Next up
Following the offical announcement of James "Mad Dog" Mattis as Defense Secretary, all eyes are now on who will lead the State Department over the net four years.
Former New York City Mayor Rudy Giuliani and former Massachusetts Gov. Mitt Romney are considered the two leading candidates for the job, with retired Gen David Petraeus as a distant third option. Donald Trump will be sworn in as president on January 20 on Inauguration Day.