CNN host stunned as Donald Trump advisor compares climate change to a 'flat Earth'
A Donald Trump surrogate and transition team member compared believing in climate change to thinking the Earth is flat.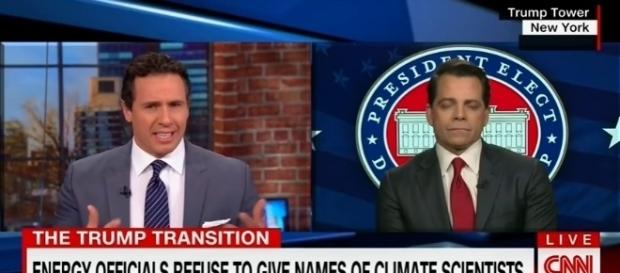 Heading into the 2016 presidential election, one of the main issues that divided Democrats and Republicans was over #Climate Change. While the consensus among most scientists is that climate change is reality and that humans are having an impact, some who support #Donald Trump aren't too convinced.
CNN on Climate Change
Around 98 percent of the scientific community strongly believes in global warming, while pushing for various actions to prevent the acceleration of climate change. Since the 2016 election, President-elect Donald Trump has left a door of possibility open when it comes to the change in climate, even meeting with former Vice President Al Gore, who has devoted much of his life to the issue since leaving public service.
Trump's potential shift is a drastic change compared to his previous position where he claimed global warming was a "hoax" created by China. These issues were front and center during a December 14 interview segment on #CNN.
Joining CNN host Chris Cuomo was Donald Trump advisor and member of the transition team Anthony Scaramucci. Cuomo asked why the Trump transition team was asking for the names of the individuals at the Department of Energy who worked on global warning issues. Scaramucci denied that it was a purge, but quickly shifted the conversation into his complete dismissal of the climate change.
BREAKING: Trump picks Oklahoma AG Scott Pruitt, longtime EPA critic, to head environmental agency, source close to Pruitt says.

— The Associated Press (@AP) December 7, 2016
"I know the current president believes that the human beings are affecting the climate," Scaramucci pointed out, but noted, "There are scientists that believe that that's not happening." Cuomo quickly fired back, stating that the "overwhelming consensus" within the scientific community "is that man's actions have an impact on science."
CNN's @ChrisCuomo gobsmacked by Trump adviser's climate plan: 'Ivanka is working on this issue' https://t.co/dqZV9xb2bN pic.twitter.com/2mwXzj8oiA

— Raw Story (@RawStory) December 14, 2016
In response, Scaramucci replied with a statement that left many scratching their heads.
"There was an overwhelming science that the earth was flat," he continued in a shocking comparison to climate change. Cuomo hit back, stating that the comparison was "ignorance." "We did a lot of things wrong in the scientific community," Scaramucci continued, while admitting, "I'm not suggesting that we're affecting the change. I honestly don't know, I'm not a scientist." In an attempt to calm Cuomo, Scaramucci informed the CNN host that "Ivanka is working on this issue."
Moving forward
While Donald Trump appeared willing to at least listen to arguments that support the belief that global warming is real, his recent cabinet appointments say otherwise. Last week, the billionaire real estate mogul nominated Oklahoma Attorney General Scott Pruitt to lead the Environmental Protection Agency, a man who is currently taking part in a lawsuit against the EPA, and is a skeptic of global warming.