5 dead after severe weather outbreak in the South
A confirmed 15 tornadoes ripped through the South late into evening hours of November 29, 2016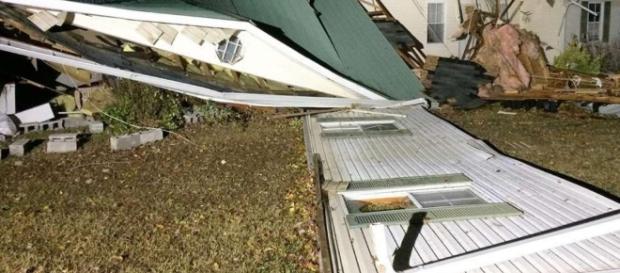 At least five people were confirmed dead after a severe weather #Outbreak attacked the South. The cold front that passed from Louisiana all the way to North Carolina provided 15 confirmed #Tornado spottings and 2 of which resulted in deaths. The National Weather Service confirmed on Wednesday that the worst struck area was Rosalie, Alabama where a reported EF-3 touched down killing 3.
Noxubee County, MS
Residents in Noxubee County, Mississippi were preparing to go to sleep, or were already asleep, when a severe thunderstorm began to ravage through the county. At approximately 10:30 pm EST or 9:30 pm CST, a severe thunderstorm that already had a history of tornadoes was passing through Noxubee County that prompted a tornado warning to be issued.
Neighbors were awoken to the sounds of tornado sirens as a confirmed EF-3 was on the ground, and it made it's way through Macon, Mississippi. According to authorities, the tornado was on the ground for around 23 miles destroying homes, barns, field, and buildings. The result, no people lost their lives in Noxubee County.
Jackson County, AL
Jackson County, Alabama is home to 53,000 residents and when the tornado that had reportedly destroyed many homes in the neighboring county and was making its way into Jackson, residents reacted. Residents looked to the shelter, but before any knew it, the EF-3 was on top of them. Survivors spoke to local news agencies about the sounds and claimed: "it sounded like five freight trains driving over us." One man claimed he was driving home when the tornadoes of February 2016 struck and he caught in the middle.
The small town of Rosalie, Alabama was the worst damaged of the severe weather outbreak. According to authorities, a home off Highway 71 had been flattened which took the lives of 3 people.
The outbreak
Tennessee was also part the November outbreak after Polk County was struck by an EF-2 that left two people dead. There was some good news, a mother in McKinn County, Tennessee gave birth to a baby after she was tossed out of her own home due to violent winds. In all, the outbreak left around $3 million in damages and 6,500 residents in Alabama were without power for around 20 hours. The National Weather Service reminds people to keep weather radios nearby in case you fall asleep with severe thunderstorm possible in your area and too be sure to get to the safest part of your home. They also what to advise Americans that the weather is changing and heat waves are causing more severe weather than ever before. #SevereWeather