Veterans will deploy to Standing Rock on December 4
Veterans have gathered to protect America's water and plan to deploy to Standing Rock in opposition of the Dakota Access Pipeline.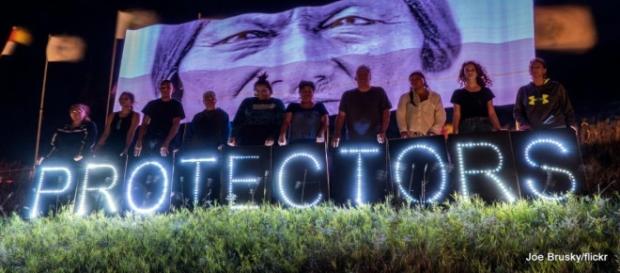 In the last few weeks, The Dakota Access Pipeline has been gaining media traction. Over the course of the last couple of months, many people have gathered to revolt against DAPL which has led to police and authorities using their power to tase, tear gas, and shoot rubber bullets and water cannons at unarmed civilians. On top of other inhumane and unlawful practices, journalists have been arrested for attempting to document what is going on at Standing Rock and Natives have been numbered and kept in dog kennels in attempts to protect the water that all Americans benefit from.
What is the Dakota Access Pipeline?
The Dakota Access Pipeline is being built by a Houston-based company for the transportation of thousands of barrels of crude oil.
Its construction has run its course through ancient burial mounds on the Sioux Reservation, as well as under the Missouri River, the largest river in the United States, and the main source of water for the Sioux tribe. In the case that something happens and DAPL ruptures, this will result in extreme pollution of the water throughout America.
After the U.S. Court Of Appeals denied the ruling to halt the construction of the Dakota Access Pipeline on October 10, 2016, also known as Indigenous People's Day, the awareness of the pipeline's opposition began gaining media attention. Since, many Native and non-Native American activists have made their way up to Standing Rock in North Dakota in opposition of the continued construction of the pipeline.
Veterans to Standing Rock
After an elder called him about the occurrences happening at Standing Rock, Wesley Clark Jr.
decided to take action. He and Michael Wood Jr., both activists and veterans, developed the idea to bring veterans to Standing Rock. Since, a Facebook page named 'Veterans Stand For Standing Rock' has been created and veterans from all over America have agreed to take the trek to North Dakota on December 4.
A Gofundme campaign has also been created. It states "The funds we raise on this page will go towards providing food, transportation and supplies for the brave patriots that come and stand with us. We'll be standing alongside peaceful water protectors, who've endured violent attacks from the private security funded by #DAPL and more brutality and arrests at the hands of militarized police and DAPL security. We have full support of the Sioux tribe elders and will be cooperating with them every step of the way." To date, the campaign has raised over $460,000, and in less than a week, veterans will be making their way to support the Sioux tribe and others, as activists, to protect the water all Americans benefit from. #VeteranStandingRock #StandingRock