Trump stuns naming a daughter of immigrants to major post
Nikki Haley, former Trump critic, releases statement accepting ambassador position.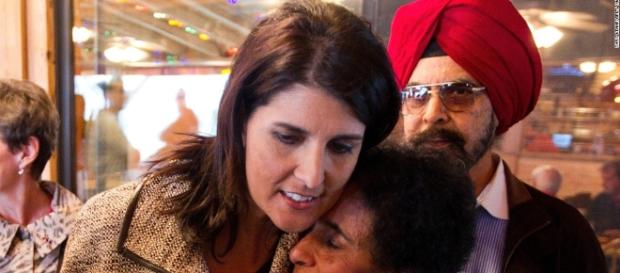 South Carolina Governor #Nikki Haley has been named by President-Elect #Donald Trump as his pick for the United States Ambassador to the United Nations. Haley already made history when she became South Carolina's first female governor in 2011. In the historically red state of South Carolina, this was quite a feat because of what many perceive to be a heavily entrenched good-old-boy network, where women belong anywhere but in politics. To top it off Haley's parents are immigrants from India, which should make for some interesting discussions with Trump on immigration policies.
Trump promoted Haley from an "embarrassment" to a beacon of light
The presidential election of 2016 will go down as one of the most contentious in history.
The attacks were not only brutal, but very often they were personal. For the longest time, Haley almost fell right in line with the "never Trump" coalition. She was a loyal republican, but just could not see Trump being fit to occupy the coveted oval office. She initially supported Marco Rubio for President, switching her support over to Ted Cruz after Rubio dropped out. It was only after Trump was the only republican horse left in the race, that Haley said she would remain loyal to the party and cast her vote for Trump.
Despite running a busy campaign with a rally going on seemingly every 15 minutes, Trump somehow always found the time to have an eye on social media for anyone who might say something not particularly flattering about him. He constantly said things that many found offensive, but he just could not take someone hurting his feelings without firing back, with Twitter being his favorite weapon of choice.
Upon initially learning of Haley's not backing him, Trump jumped on Twitter and denounced Haley as "an embarrassment to the nation". Hence, many were shocked that he now suddenly wants her to represent this nation to the United Nations assembly.
Haley leaves her mark on South Carolina
There were many decisions Haley made that angered the citizens of South Carolina during her tenure. She was only 38 when she took office, and even now is the youngest active governor in the United States at 44 years of age. Most notably when she refused federal grants to expand Medicaid, one of the few states to do so, she dealt a harsh and crushing blow to the hardworking poor.
But what many will remember even more is that Haley eventually came around and backed the side that fought for and won the removal of the Confederate flag from the State House grounds in the capitol city of Columbia, South Carolina. She also played a large part in urging healing and prayer for the state after the horrific massacre of nine Christians in the actual sanctuary of Mother Emanuel African Methodist Episcopal Church in Charleston. So, it remains to be seen what the future holds for Haley as she again makes history as the first female named to a post in Trump's unfolding administration.