Tom Hanks, Ellen DeGeneres, Michael Jordan and more honored with the Medal of Freedom
President Obama bestowed this prestigous award on 21 individuals today at the White House.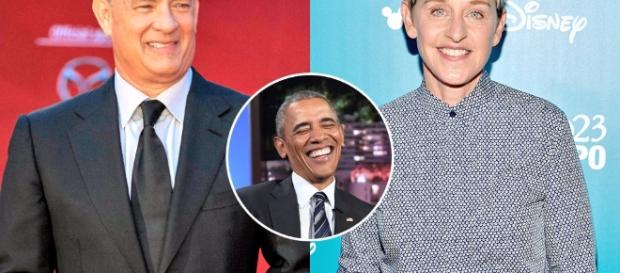 With Barack #Obama's presidency coming to an end, today at the White House for the Presidential Medal of Freedom ceremony, he honored men and women who are artists, actors and athletes with the nation's highest civilian honor. Among them some of the big names are Robert DeNiro, Tom Hanks, Ellen DeGeneres, Robert Redford, Bruce Springsteen, Cicely Tyson, Diana Ross, Kareem Abdul-Jabbar and Michael Jordan. The Presidential Medal of Freedom is awarded to people who have had an especially commendable influence on the security or national interests of the United States, such as world peace.
Ellen DeGeneres honored for helping the LGBT community
An emotional #Ellen DeGeneres teared up while receiving her award and was respected for filling the world with laughter, equality and showing us all to "keep swimming.
" Obama got choked up too when remembering how Ellen came out as gay during one of her TV show episodes in 1997, a huge an important move for the LGBT community. Obama proclaimed, "What an incredible burden to bear, to risk your career like that."
Tom Hanks called "America's dad"
Similar praise was given to Tom Hanks who has shown us many different faces in his movie roles, especially Buzz Lightyear in "Toy Story" who has reminded us all to "reach for the sky." Obama called Hanks "America's dad" and confessed, "The truth is Tom has always saved his best roles for real life. He is a good man."
Michael Jordan and Kareem Abdul-Jabbar honored too
Barack also honored Michael Jordan and joked, "This is a particularly impressive class: innovators and artists, public servants and rabble-rousers, athletes and renowned character actors like the guy from Space Jam." Another athlete to be awarded the medal was basketball legend Kareem Abdul-Jabbar.
In Conclusion
Barak Obama concluded his speech by stating that the incredible people being honored today is what makes us the greatest nation. Not because of the differences that we have but because in our differences we find something in common to share. #Celebrities