Thanksgiving Turkey Tot won the vote for Presidential Pardon - runner up Tater is ok too
President Obama gives the gift of life to the two White House Turkeys in a continuing Thanksgiving tradition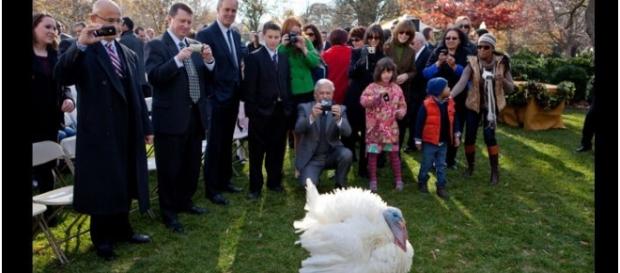 When the White House invited people to vote for Team Tot and Team Tater to see who would win the Presidential pardon and be spared being the main course served for #Thanksgiving dinner, Team Tot came out ahead at 51%. With #Turkey Tot guaranteed the all clear - what of Tater? Well, Tater was also pardoned at the official ceremony when Tot was presented as the Thanksgiving Turkey of the year.
Thanksgiving turkeys both escape the hatchet
The continuing tradition of actually pardoning both the turkeys started back in 2009 when President Obama's children felt so sorry for the turkeys that they asked their Dad to pardon both of them - and every year since then, lucky turkeys have escaped being lunch.
Before the Obama POTUS, the President used to pardon one turkey in a tradition that started in 1947.
Tot-ally pleased to announce the people's choice for the 2016 National #Thanksgiving Turkey: #TeamTot! #WHTurkeyPardon pic.twitter.com/BPezrzrQah

— The White House (@WhiteHouse) November 23, 2016
Tot and Tater will live to tell tale
What happens to Tot and Tater? Those who might be stressing about what will happen to the turkeys, who are likely to have a longer future than most, can rest assured that they will be well looked after. In the meantime, of course, the memes and themes have hit Twitter to make everyone laugh even more than at the nine puns that accompanied President Obama's speech at the pardoning ceremony.
Having a poke at the Donald, was this one -
@Tommm1954 @WhiteHouse we can still convict this turkey!! pic.twitter.com/A05ZNTc4pq

— Bonnie Schultz (@Bonnie_219) November 23, 2016
While Hillary Clinton was not left out of it either -
@WhiteHouse I was hoping this turkey would get the nod!! #TeamHillary #WHTurkeyPardon #Thanksgiving pic.twitter.com/gLRunuNgaw

— Tom Thurman (@Tommm1954) November 23, 2016
Many people were so pleased to see the duo get the pardon but of course, they are so very sorry for all of those turkeys who died to celebrate Thanksgiving day.
@WhiteHouse I like the turkey pardon. Other animals aren't so fortunate and it breaks my heart to see them in trucks.

— Mary T McCready (@nartmc) November 23, 2016
The President pardoned humans this week too
And because this is Ameria where people can criticize their politicians and not end up in jail for it, others took the opportunity to tell POTUS what they thought of him and his administration. But on the whole, the Thanksgiving Turkey pardon was taken as a fun thing in the spirit in which it was meant to be. On that note, this Thanksgiving week saw humans pardoned as well. President Obama has commuted more sentences in this year than any other in the same time perdiod. Just in time for Thanksgiving, he pardoned 79 people which brings Obama's number of people to get a second chance at living life again to over 1000 during his presidency.
There are at least 1000 families out there somewhere who know that part of their thanks for this weekend will be directed at the outgoing President of the USA.
#Presidential pardon