Thanksgiving invitation 911 call to Florida deputies from five-year-old boy
While his mother was in the kitchen cooking, a young Florida boy dialed 911 to invite local deputies over for Thanksgiving dinner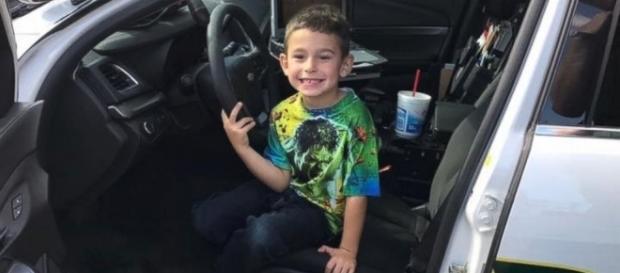 Both the #911 dispatchers and the deputies themselves were moved after five-year-old Billy Nolan used the emergency number to invite the cops over for #Thanksgiving dinner. While they didn't officially take him up on the invitation, the deputies let Billy sit in their patrol car, playing with the emergency siren and lights.
According to a report by Fox News, the #Florida 911 dispatcher in Walton County was a little puzzled, but definitely moved, by the brief call made by the boy. Billy said in his short call that his family was eating Thanksgiving dinner and would they like to come over, then thanked them, saying "Bye."
Monica Webster is the Lead Communications officer at the emergency dispatch center and she told the Northwest Florida Daily News that with all the bad calls they receive daily, this particular call was welcome, as it made them all smile.
Billy's family had no idea he was inviting the deputies to Thanksgiving dinner
With his mother busy in the kitchen and the rest of the family busy getting ready, they had no idea Billy was making the call, until his grandfather spotted him chatting on a cell phone. His mother then asked the boy what he was doing and Billy told her. He said he wanted the deputies to have cheesecake too, as it is his favorite.
NYDailyNews: This Florida boy called 911 to invite cops to Thanksgiving dinner https://t.co/4jIMUdgKEB pic.twitter.com/t1t3r2yV2r

— Amanda Lenon (@LenonAmanda) November 25, 2016
A deputy from the Sheriff's office arrives at the home
It was minutes after Billy made his sweet call that Deputy Dannon Byrd showed up at his home. Byrd asked if it was Billy that made the call to 911. When he replied to the affirmative, Byrd didn't scold him, but thanked him for his kind Thanksgiving invitation, all the while reminding the boy that the 911 service is for emergencies only.
However, the deputy and his partner gave Billy a sheriff's badge and let him sit in the patrol car, playing with both the lights and the siren. According to Landi McCormick, Billy's mother, they then asked the five-year-old what he wanted to be when he grew up. He immediately said he wanted to be a police officer so that he can be kind to little kids like himself one day.
It was apparently during a visit to his school by deputies on Dads and Donuts day that Billy became aware of the Walton County Sheriff's office. The deputies posted photos of their visit with Billy on their official Facebook page and the post went viral, with people all over the country thanking both the deputies and Billy for their kindness.