Tennessee fires rage as people run for their lives -- 3 dead in towns around Dollywood
'This is a fire for the history books,' reports the fire chief. The fires have ravaged 150 structures and displaced thousands of people today.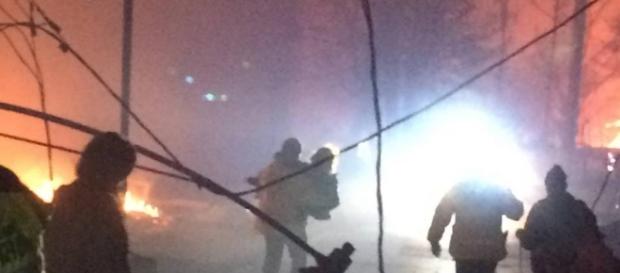 The raging fires in Tennessee are being fueled by 80 mph winds with the latest reports indicating that people are running for the lives. As of Wednesday morning, the death toll from these fires stands at three with another dozen people reported injured. Witnesses report the fire is spreading quickly.
One minute you are looking at a serene mountain scene and the next minute it is engulfed in flames and these fires are ravaging anything in their path. Anyone nearby one of these fires is experiencing some level of fear of the unpredictable fast moving flames.
Burnt to the ground
Hundreds of homes and businesses have burnt to the ground and thousands of people have been evacuated from their homes and businesses in the Great Smoky Mountains National Park area towns.
Sheets of flames are seen coming down the mountain and they have ripped through the towns of Gaitlinburg and Pigeon Forge.
Dollywood
Dolly Parton's Dollywood Park is in the area of these furious fires and while flames literally lapped at the theme park's front steps, so far it has been spared from fire engulfing any structures. In the surrounding towns, people are literally fleeing their homes with just what they have on their backs.
Winds topping 87 mph carry hot embers
So far the flames have left a pile of embers where 150 buildings once stood and a total of 14,000 people have been evacuated from the area. According to The Washington Post today the mayor of the town of Gaitlinburg said at a press conference on Tuesday that "people are basically running for their lives."
The fire chief of Gaitlinburg, Greg Miller, conveys how this catastrophe is something that will be remembered for a long time.
He said, "this is a fire for the history books." The dry grounds coupled with the strong winds has created a fire storm that is burning fast and furious. The top wind speed was clocked at 87 mph.
The fire is spreading so rapidly as the winds are carrying the hot embers far and wide causing trees to burn and fall, blocking the roadways. Power lines are coming down everywhere, adding even more danger to an already deadly situation.
Tourist stranded as fire engulfs hotel grounds
Guests were stranded in a hotel in Gaitlinburg earlier this week. The fire came up the mountain so quickly that it wasn't safe to evacuate the guests of the hotel, which would entail using the only road down the mountain. That road was blocked with fallen trees and power lines.
Smoke filled the hotel after the front doors came off their rollers. Firefighters managed to barricade the doors and break the windows on the top floor of the hotel to filter out the smoke. Guests described how frightening it was to learn they were stuck in the hotel as fire raged all around the grounds. #Tennessee fires #Dollywood fires #Great Smoky Mountain fires