Sarah Palin in top consideration for major Donald Trump cabinet position, ABC News reports
Sarah Palin could soon find herself as part of the new Donald Trump administration and instantly back in the national spotlight.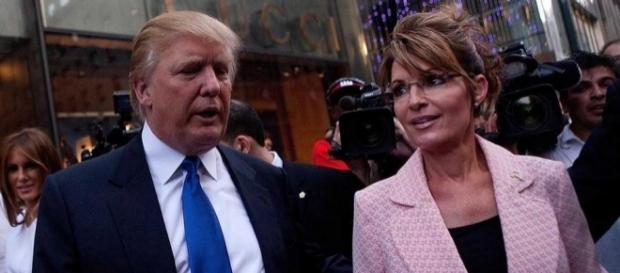 Heading into the 2016 presidential election, many wondered who would actually get behind #Donald Trump as president. One of the first high-profiled names to support Trump was former half-term Alaska Gov. #Sarah Palin, and it looks like her loyalty might be paying off.
Palin on Trump
When Sarah Palin came onto the national political scene, she was instantly greeted as a savior to conservatives on the far-right. Not long after she was selected as Sen. John McCain's running mate in 2008, she was quickly exposed for her ignorance on many issues, leading to the former governor being looked at as a joke by the mainstream media and her liberal critics.
Following Trump's election win, reports circulated that Palin could be in consideration for Secretary of the Interior, but as ABC News reported on November 30, a new spot looks to be opening up.
NEW: Sarah Palin under consideration for Secretary of Veterans Affairs, sources tell @ABC News. -@shushwalshe

— ABC News Politics (@ABCPolitics) November 30, 2016
According to network sources, ABC News has reported that Sarah Palin is under consideration to become the next #Secretary of Veterans Affairs. Palin has been a vocal supporter of veterans in the past, and has been an outspoken critic of the current state of the Veterans Administration in recent years.
Palin being considered for Trump's Veteran Affairs Secretaryhttps://t.co/fmrE8YBZhM pic.twitter.com/zwwnxZYBLf

— The Hill (@thehill) November 30, 2016
Sarah Palin officially announced her endorsement of Donald Trump back in January, just 24 hours after he son Track Palin was arrested on charges of domestic violence against a female.
Since that time, Palin has been on and off the campaign trail for the former host of "The Apprentice," but was there to cheer him on in the final days of the campaign.
Next up
While it's unknown if Sarah Palin will accept the job as Secretary of Veterans Affairs, Donald Trump is expected to make other announcements in regards to his campaign and administration. The big news that many are waiting for is who will lead the State Department over the next four years. The two at the top of the list are former New York City Mayor Rudy Giuliani, and former 2012 Republican presidential nominee Mitt Romney. On Tuesday night, Trump held a dinner meeting with Romney, along with his new Chief of Staff, current Republican National Committee Chairman Reince Priebus.