Sabra recalling some of its hummus after listeria found in food facility
Sabra Dipping Co. issues voluntary recall of wide range of its hummus dips after listeria was detected in a food plant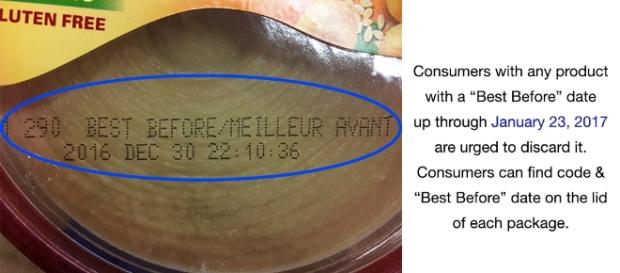 The company that makes a popular #hummus dip is telling hummus lovers to toss out a wide range of its products after listeria was detected in a food manufacturing plant.
Sabra Dipping Co. says it is voluntarily recalling a number of its offerings made before November 8 out of "an abundance of caution" after testing by the Federal Drug Administration detected listeria monocytogenes at the facility. The hummus dips being recalled are distributed to grocery stores and markets throughout the U.S. and Canada, but Sabra says in a statement on its website that no listeria was found in any of its finished products.
"We want to reassure our consumers that our procedures include extensive finished product testing, and no products tested positive for contaminants," the statement said.
"We are taking action because consumer safety is a top priority."
Listeria can be fatal for some
The FDA says listeria monocytogenes are an organism that can make people sick with a gastrointestinal infection that can cause nausea, abdominal pain, diarrhea, high fever, severe headaches and stiffness. Though healthy people recover, for young children, frail or elderly people, or those with weakened immune systems, the infection can be serious and sometimes fatal. Listeria infections can also cause miscarriages and stillbirths among pregnant women.
Sabra is saying anyone with its hummus dip that has a "Best Before" date up through January 23, 2017 should throw it out. The date can be found on the lid of every package. A full list of hummus products being recalled is on both the FDA and on Sabra's website.
Sabra's website also provides information on reimbursements.
Sabra says it has cleaned and sanitized its affected facility
After the listeria was detected Sabra says it conducted an extensive cleaning and sanitizing of its food factory. Sabra is based in Colonial Heights, Va., but did not say where the affected facility was located.
Sabra says its Sabra Organic Hummus, Sabra Salsa, Sabra Guacamole, and Sabra Greek Yogurt Dips are not included in the recall. #Federal Drug Administrtion #food recall