Rosie O'Donnell comes under fire for questioning if Barron Trump is autistic
Rosie O'Donnell asked what others want to know about 10-year-old Barron Trump: Is he autistic?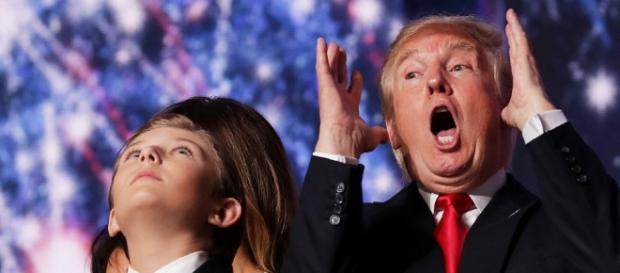 Rosie O'Donnell has been criticized for asking a question about the president-elect's ten-year-old son Barron and posting a video on Twitter suggesting he is autistic. The tweet simply read: "#Barron Trump Autistic?" O'Donnell went on to say, "[I]f so, what an amazing opportunity to bring attention to the #Autism epidemic." The comedian's question, suggestion and video sparked an immediate uproar on Twitter.
Rosie O'Donnell and Donald Trump
#Rosie O'Donnell and President-elect Donald Trump have been pubicly feuding since 2006. If anyone else had asked the question about Trump's son, it probably would not have sparked as much controversy.
There are numerous negative comments about what Rosie did. Some called it bullying and going after a child. Perhaps people shouldn't be too critical of Rosie because she has a child with mental challenges. Maybe Rosie noticed something that others would not notice. Besides, the president-elect did something much worst. When he was campaigning, he imitated and mocked a disabled reporter.
The tweet and video
They're going after a 10 year old. That's what trash exists on the left. pic.twitter.com/mx7XNnjVDQ

— Mike Cernovich 🇺🇸 (@Cernovich) November 23, 2016
The video Rosie shared has been viewed over 500,000 times. The video addressed some of Barron's mannerisms that are quite similar to children who do have autism. O'Donnell noticed things that others might miss because they have not been around autistic children like she has.
Others have also said the boy's behavior was strange when he was on the stage during his father's victory speech on election night and at the Republican National Convention last summer. So, Rosie is not the first or only person who has questioned Barron's behavior.
In defense of O'Donnell, she did say in a follow-up tweet that there is nothing to be ashamed of if Barron is autistic. After all, the comedian herself has five children, including daughter Chelsea, who O'Donnell has said suffers from a mental disorder. The reason so many people are criticizing Rosie is because she brought attention to something that should have been left up to the parents to make public when and if they decide to do so. More than likely, this is just another chapter in the feud between the comedian and the president-elect.