Rise and rise of Alt-right movement and its leading ideologue Richard B. Spence
Is Mr. Richard B. Spencer of alt-right movement a racist crusader or a politician?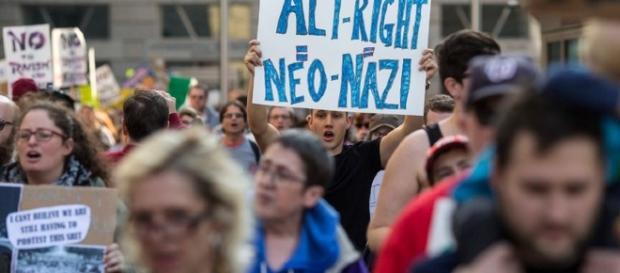 Washington - As soon as the final speaker of the night rose to address the gathering of his followers on Saturday, the crowd was restless. Mr. #Richard B. Spencer who is the face of alt-right movement group challenged his followers to act less like an outlawed organization and more like a well-established organization.
Mr. Richard B. Spencer was addressing a gathering of more than 200 people, most of them, white men. He told his audience what they wanted to hear most. He spoke against Jews and other Nationalities. He said America belongs to white people who he refers to be "children of the sun". As he spoke some of his audience had their hands outstretched in a Nazi slogan.
Then one of the people who was standing near him shouted "Heil the people! Heil victory," the gathering started shouting the slogan back.
These are the victorious time for alt-right movement
These are best times ever for the #Alt-right movement, which was not well known over the past years. The movement came into the limelight when it embraced the president – elect campaigns and he seemed to embrace it in return. Mr. Stephen K. Bannon who ran the alt-right's most outstanding platform, Breitbart News was chosen to be his campaign chairman and then Trump named him as a senior adviser and Chief strategist.
The alt-right movement leaders are now conspiring to have a position in the Trump administration. Many of its racist views are well known all over the world especially in the ancestral land of President Barack Obama.
Their views are such that Black Lives Matters movements is to them, another name for black race rioters. President Obama is a Kenyan Muslim, Its members' views is that's even the children of undocumented Hispanic who are born in American should also be the subject of deportation.
This group is hard to define exactly what it is and what it stands for. It's hard to tell whether it is a political movement established in Xenophobia or its just political provocateurs on the internet.
According to Mr. Richard B. Spencer, the alt-right movement is an organization with a white identity as its core idea. In the conference on Saturday night, he said the focus of the group is on issues that involve marginalization of white people.
Alt-right movement leader Richar B. Spencer criticized media
Richard B. Spencer pointed that the media had been very critical of Mr. Trump throughout the campaign so that they could protect Jewish interests. He talked about the political commentator who predicted that Mrs. Clinton will be the next president. He said that the #Donald Trump victory is "the victory of will". According to him, the United States had been turned into "a sick, corrupted society".