President Obama pardons turkeys for eighth and last time during his presidency
Two turkeys, Tater and Tot, were spared by President Barack Obama as his two nephews looked on.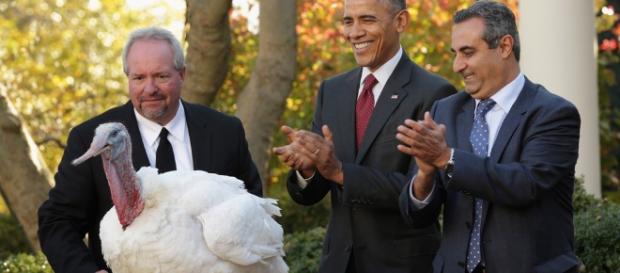 President Barack Obama pardoned the official National #Thanksgiving #Turkey for the final time during his presidency on Wednesday, November 23, 2016 at 2:45 p.m. This was his eighth time he has spared turkeys the day before Thanksgiving. The pardoning ceremony this year seemed to have been a fun event for the president. In his speech, he used a lot of turkey and Thanksgiving puns. It was probably because he knew it was the last time he would participate in this long White House tradition. In previous years, the president's daughters, Malia, 18, and Sasha, 15, have stood by their father's side during the ceremony. This year was different. The president's two young nephews were with him at the ceremony in the Rose Garden of the White House.
This year's turkeys
Two turkeys were spared, but only one was pardoned as the official National Thanksgiving Turkey. The turkeys are named "Tater" and "Tot." It was Tot who was pardoned based on votes from the White House's Twitter poll. Tot received 51 percent of the votes versus Tater's 49 percent. Neither turkey will end up on somebody dinner table this Thanksgiving or any other Thanksgiving.
Both birds will be sent to their new home at Virginia Tech to live out their natural lives. They will be cared for by veterinarians and students of Virginia Tech's Animal and Poultry Sciences Department at "Gobbler's Rest" in Blacksburg, Virginia.
Introducing Tater and Tot, the 2016 National #Thanksgiving Turkeys: https://t.co/wTcdWKlWAM #WHTurkeyPardon pic.twitter.com/H3NjsU6YNT

— The White House (@WhiteHouse) November 22, 2016
As you can see from the description above, Tater and Tot are male birds born on July 18, 2016 and are just 18-weeks-old even though they are very big.
Their height and weight are about the same. Tater's gobble style is strong, and he walks with a swagger. Tot gobbles with confidence and walks with a relaxed stroll.
Turkey tradition
The tradition of pardoning a turkey the day before Thanksgiving first started in 1947 when Harry Truman was president. The National Turkey Federation presents a live domestic turkey to the president every Thanksgiving. He grants a pardon to the bird in the Rose Garden and sends it to Virginia Tech to be with other turkeys who were pardoned in previous years. #Obama