President Obama deputizes close aide to represent USA at the funeral of Fidel Castro
Benjamin J Rhodes deputy national security adviser to Obama will attend the funeral of Castro the iconic Cuban leader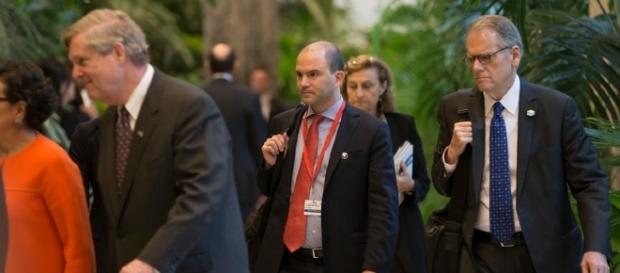 Fidel #Castro died a few days back at the ripe old age of 90. He was a man who defied the USA for 50 years or even more. The passing away of an iconic leader is recognized by the entire world. President #Obama is a pragmatist and putting aside decades of hostility held out his hand of friendship to Raoul Castro, the president of Cuba and he reciprocated. Diplomatic relations were restored after almost 5 decades. Castro will be given a state funeral and leaders from all over the world will attend. In the USA, there is much division on Castro but many have hailed Obama's step. He was advised by many to ignore the funeral of Castro. The president has chosen a middle path and asked his close aide and deputy security advisor, Benjamin J Rhodes to represent him at the funeral.
This bold step shows Obama is keen that the diplomatic thaw goes ahead. The news was reported by the New York Times.
Castro's funeral
Castro was an iconic leader, but he had a streak of ruthlessness and that led to hundreds of Cubans fleeing his rule. They settled in Florida a mere 90 miles from the Cuban mainland. Castro's funeral will be a big affair and many leaders from Asia, Latin America and other countries will attend it. However, the funeral in attendance may not match the gathering at the funeral of Marshal Tito which was attended by president Jimmy Carter. At that time almost 48 heads of government had attended the funeral. This time the Russian and Chinese presidents will not attend and will be represented by senior aides. India will be represented by the Home Minister Rajnath Singh as Modi will give it a miss.
Last word
Mr. Rhodes is not a career diplomat but he has the president's ear. He was the chief interlocutor with the Cuban government on opening up the relationship.Tthe Republicans have castigated Obama for his hand of friendship statement on the death of the Cuban leader. President-elect Tump is also very critical of Obama and rapprochement with Cuba unless the human rights record is set straight. in the meantime, as announced by Josh Earnest white house press secretary, Benjamin Rhodes will be on the way to Cuba.