President Obama and family enjoyed last Thanksgiving dinner in the White House
The first family ate a three-course dinner to celebrate last Thanksgiving at the White House.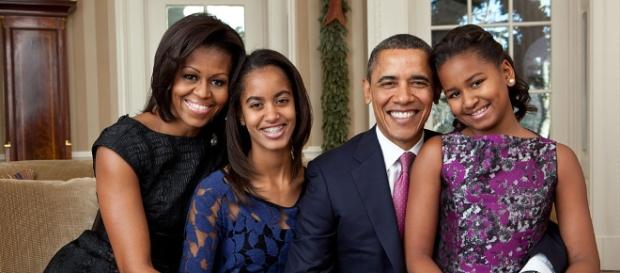 President Barack Obama and his family celebrated #Thanksgiving on Thursday, November 24, 2016 along with the rest of the country. Since the first family will leave the White House on January 20, 2017, this was their last Thanksgiving at 1600 Pennsylvania Avenue. So, what was on the menu for the president's last Thanksgiving in office?
Three-course Thanksgiving dinner
The White House staff made sure that President #Obama and his family enjoyed a delicious three-course Thanksgiving dinner which was a mixture of traditional and non-traditional dishes. The first course consisted of hors d'oeuvres that included pizza bites, mini BLT's, mini crab cakes, chicken satay with peanut chili dip, fresh veggies and hummus, and pigs in a blanket.
The main course was a buffet with some of the family's traditional Thanksgiving favorites. There were four meats to choose from. The meats included thyme-roasted turkey with garlic jus and cranberry-orange relish, honey-baked ham with apricot-mustard glaze, prime rib and creamed horseradish with shallot marmalade, and fried chicken wings.
Also, there were several traditional side dishes. Cornbread stuffing and oyster stuffing were available to go along with the roasted turkey. Other classic side dishes included green bean casserole, mashed potatoes, braised winter greens, macaroni and cheese, sweet potato gratin, fresh greens, kale caesar salad, and rolls. Desserts included six different pies, including apple, banana cream, cherry, coconut cream, pecan and pumpkin. Interestingly, no cakes were included on the menu.
The White House did not provide a list of beverages that were available to go along with the meal.
Thanksgiving menus around the nation
Most Thanksgiving menus might not have included the indentical foods that were available for the first family, but they might have been quite similar. The main dish for most tables was the turkey, whether roasted, fried or baked. The side dishes were almost identical to what were on the average family's Thanksgiving dinner table. Either way, it seems that the Obamas certainly made their last Thanksgiving in the White House a memorable one.