Online Walmart deals for Black Friday 2016 - TV prices start at $125 with free shipping
Why wait in line and fight the crowds when Wal-mart offers most of their same TV sales online for Black Friday 2016?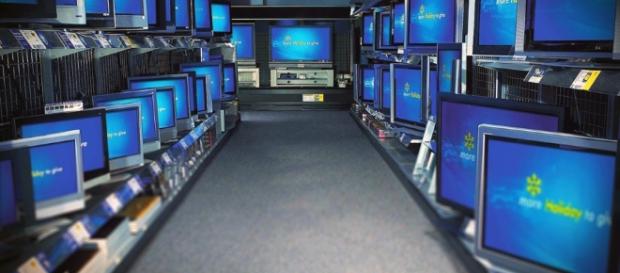 #Black Friday 2016 TV sales at Wal-mart are just as beefed up online, as they are in the stores for the busiest shopping day of the year. Instead of going elbow to elbow with the shoppers who are all vying for the Wal-mart sales on Black Friday, let your fingers do the shopping and forget about the crowds.
Wal-mart's Black Friday event kicks off Thanksgiving at 6 p.m. local time and continues all day Black Friday. Luckily most of those same great deals are already available online, according to BGR News. Another enticing bit of news for online shoppers is that Wal-mart is offering free shipping on those TVs!
This year is not much different than the previous Black Friday events when it comes to what brings in the shoppers, and Wal-mart is ready with great deals on TVs.
They have HDTVs, Smart TVs, 4K TVs and curved TVs all lined up and ready to go.
TV deals
Wal-mart has the granddaddy of all TVs on sale for Black Friday. It's the 75-in Samsung 4K Ultra HD Smart TV for only $2,197.99, which is about half of its original cost. For a 65-inch TV, you can pick up the Vizio Class 4K, Ultra Smart HDTV, which has the sale price of $848.00 for the Black Friday event. You can purchase a Samsung 60-inch Full HD Smart TV for the low price of $577.99.
55-inch TVs are also on sale
Samsung Curved HD TV is priced at $497.99.
Vizio HDTV with the low price of $378.00.
Proscan HDTV is on sale for $299.99.
Sceptre 4K Ultra HDTV is offered at $339.99.
Wal-mart is also offering these TVs listed below online for great prices during their Black Friday sale. While a 50-inch TV is far from small, it is smaller in size than the huge home theater-type TVs they have on sale this year.
The 50-inch Samsung Full Smart HDTV is priced at $499.99 and the 50-inch Proscan HDTV is offered at the sale price of $249.99. If it is a smaller TV you are after then the 43-inch Samsung Full Smart HDTV on sale for $277.99 might be the one for you.
Wal-mart offers a 40-inch Samsung 4K Ultra Smart HDTV for the sale price of $297.99. Then there's the sale everyone is talking about this Black Friday season. The 32-inch TCL Roku Smart HDTV for only $125 (This one TV is for store pick-up only.) This is a great TV for a dorm room, a guest room, or to place behind a bar.
Audio for the home
Wal-mart offers the Beats and Pill Speaker with the sale price of $195.00. They also offer the Vizio 38-inch 5.1-Channel sound bar. This has a rear satellite and a wireless subwoofer for only $149.00.
Another sound bar Wal-mart offers is the Samsung 2.1 ch sound bar with 300W and wireless subwoofer. This is priced at $147.99. Google Home is on sale for $99 and Google Chromecast audio is only $30.00 for the sale this Friday.
One of the lowest priced soundbars comes from RCA. This home theater sound bar can be yours for only $29.00
Check out the deals on Xbox, PS4 and Nintendo units and games here. You can actually get great gifts for under $10 dollars this year, check out the many different gift ideas that are less than the cost of a movie ticket!