Obama phones Trump after election, invites him to White House for meeting
President Obama has invited President-elect Trump to the White House to ensure a smooth transition of government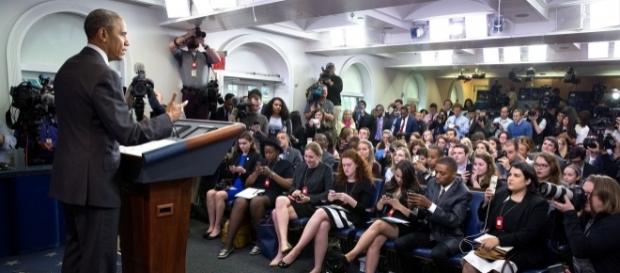 President #Obama called #Donald Trump this morning, congratulated him on #Election 2016, and invited the newly elected president to the White House on Thursday. The press secretary's office released a statement that said the president has asked President-elect Trump to visit the White House on Thursday for an update on the January transition.
The White House also said having a smooth transition of government was a top priority and that means working with the president-elect. The White House said Obama will also talk to Americans directly today about the election's results and how the country can come together.
That may prove awkward given Obama's numerous comments about Trump's fitness and temperament to be president, calling him "uniquely unqualified" to be his successor.
Obama also phoned the now-defeated Democratic nominee Hillary Clinton and commended her for a "strong campaign" that was ultimately decided by blue-collar rural voters.
Trump shocks the world with White House win #trump #americafirst #maga #election https://t.co/1zNzrS2wDC pic.twitter.com/NKKbGIFy2f

— RightAlerts (@RightAlerts) November 9, 2016
The problem with polls
Exit polls coming out of the election said 83 percent felt Trump would bring much-needed change to Washington D.C. And Trump got 67 percent of the vote from blue-collar white Americans, known as Reagan-Democrats and heavily unionized. Blue-collar workers were hit especially hard in rust-belt states as factories relocated to China and Mexico.
Trump stunned everyone last night by narrowly defeating Clinton, who was up by 3 points as election day drew to a close.
That was according to the Real Clear Politics average of all polls. Even Larry Sabato, the highly respected Director of the UVA Center for Politics, said 'we were wrong' about the polls, and they didn't see a Trump victory coming.
.@LarrySabato: "We were wrong." pic.twitter.com/LXzeWqYH1k

— Fox News (@FoxNews) November 9, 2016
And he narrowly beat Clinton in numerous battleground states that voted for Obama in the last election. Republicans also maintained their hold on the Senate and House. That will be expedient for Supreme Court nominees.
Dems stunned
Obama repeatedly stumped for Clinton during her campaign's final days, claiming she was the "most qualified presidential candidate in all of U.S. history." Even more qualified than himself, Obama said at one rally. Clinton was feeling so good about her campaign she even started campaigning for senators in battleground states. After Comey dropped the email bombshell 11 days before the election, her poll numbers dropped a few points. But it was the overwhelming turnout from rural white voters that brought Trump over the finish line.
Stunned Dems wonder what went wrong https://t.co/mITXgDEPnT pic.twitter.com/gTbJbvTDZb

— The Hill (@thehill) November 9, 2016
Trump campaigned as a "change agent" who would quash the EPA's Clean Power Plan, leave the Paris climate accord, halt payments to the U.N.'s climate slush fund, and end the "war on coal." Trump promised to be a champion for the common worker and put America first. He also said that for every new regulation created, two would have to be eliminated. Energy markets are already rebounding on news of his presidential win.
A jolt to the system
The real estate mogul's victory was a wake-up call for Obama, who believed that Clinton would be victorious over what many described as the "blunt-talking" billionaire. Since taking office, Obama has added $9.6 trillion to the national debt, rolled out more regulations than any president in history, and turned once-prosperous industries into desolate communities surviving on food stamps, subsidized Obamacare, and now, renewed hope.