Obama completely embarrasses GOP, Mitch McConnell in front of international press
President Obama made sure to throw some serious shade at Republicans and Senate Majority Leader Mitch McConnell during his last international trip.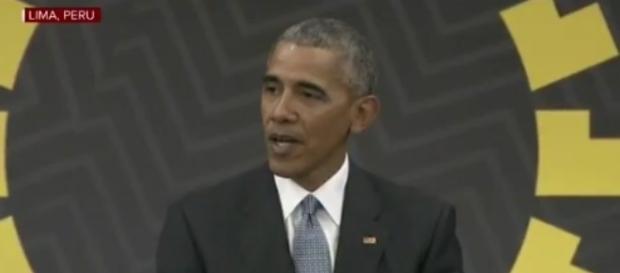 Over the last eight years, President #Obama has been forced to deal with record obstruction in the form of Republicans in the House of Representatives and the Senate. During his final international trip this weekend, Obama made sure to address that issue on the world stage.
Obama throws shade
It's been just under two weeks since #Donald Trump pulled off one of the most surprising upsets in American political history by defeating Democratic nominee Hillary Clinton to become the next president-elect. Since then, all eyes have been on who Trump will select for his cabinet and administration, as well as how congressional Democrats will react over the next four years.
These issues were presented to Obama during his trip to Peru on Sunday, as reported by Mediaite on November 20.
(Obama's comments about GOP obstruction start at 2:20 in the above video.)
This past week, Obama has spent his time in Peru, joining other world leaders as they take part in an Asia-Pacific Economic Cooperation (APEC) summit. The meeting comes at an awkward time, as top leaders from 12 different countries attended the summit to discus the future of the controversial Trans-Pacific Partnership (TPP), a free trade deal that President-elect Trump promises to squash within his first 100 days. While addressing the media and members of the international press on Sunday, Obama was asked how Democrats in congress will handle a Trump presidency, and what advice he plans to give them.
WATCH LIVE: President Obama is currently holding his last international news conference in Peru https://t.co/Nj065CIsxp pic.twitter.com/3tdomIKZEi

— CBS News (@CBSNews) November 20, 2016
"I certainly don't want them to do what #Mitch McConnell did when I was elected," Obama said, in reference to the current Senate majority Leader who concocted a plan to block as much Democratic legislation as possible since the 2008 election.
"Meet the day of and say our sole objective is to not cooperate with him (Obama) on anything even if the country is about to go into a depression so that we can gain seats in the mid-terms and defeat him," the president said, in a hard shot at the difficulties of the last eight years.
Donald Trump will quit TPP in first days https://t.co/HcT50QmXxu | Getty pic.twitter.com/faF3IW7Cy4

— POLITICO (@politico) November 11, 2016
Obama elaborated further on his advice to Democrats, telling them to "fight for your principles even if it's hard fight." The president also addressed what was going on in the House of Representatives, referring to current Minority Leader Nancy Pelosi as a "great leader."
Next up
With majority control in both the Senate and the House of Representatives, as well as the White House, the Republican Party is set to call all the shots over the next four years. Only time will tell if Democrats listen to Obama's advice, as the political divide in the United States continues to get widen following Donald Trump winning the election.