NYC Mayor Bill de Blasio threatens potential lawsuit against Donald Trump, report
Donald Trump could be facing even more legal action against him, this time coming from the mayor of New York City, Bill de Blasio.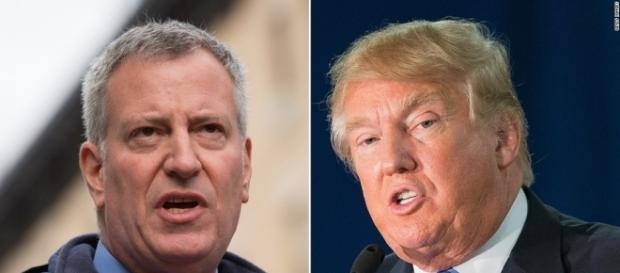 When #Donald Trump pulled off the upset and defeated Hillary Clinton to become the next President of the United States, questions were raised about which campaign promises would be made into law. One controversial topic that has dominated the news cycle is the possibility of a "#Muslim registry," which quickly resulted in backlash.
NYC on Trump
During his campaign, Donald Trump illegal immigration and fighting the Islamic State (ISIS) two of the biggest talking points that he would deliver to the American people. The former host of "The Apprentice" came under fire when he pushed for a ban on Muslim immigration from the Middle East, where refugees have been fleeing areas controlled by ISIS and other Islamic terrorist groups.
Just last week, Trump advisor Kris Kobach, also Kansas Secretary of State, alleged that the administration was considering a Muslim registry, but the transition team has since denied the claim. According to The Hill on November 21, the mayor of New York City, #Bill de Blasio, is speaking out.
NYC mayor threatens to sue if Trump makes Muslim registry https://t.co/kSx1IEBkMC pic.twitter.com/YhiQcUE7gt

— The Hill (@thehill) November 21, 2016
Speaking at New York City's Cooper Union on Monday afternoon, New York City Mayor Bill de Blasio had some harsh words for Trump and his administration in regards to the aforementioned Muslim registry. "We will sue to block it," de Blasio said, in reference to a potential lawsuit against the new president-elect. "We will use all the tools at our disposal to stand up for our people," de Blasio continued.
The mayor also made mention of potential cuts to the women's health care clinic Planned Parenthood. "We will make sure women receive the healthcare they need," de Blasio noted. This is the second time in less than a week that Trump has been threatened with a lawsuit, as Arizona Sen. John McCain did the same if the future president pushes for the use of waterboarding.
Cabinet controversy
With the issue of a Muslim registry hanging in the balance, Trump has since selected retired Gen. Michael Flynn as his next National Security Advisor. Flynn has created controversy in the past, comparing Islam to "cancer," while appearing open to the possibility of bombing the families of suspected terrorists in the Middle East.
Moving forward
In just under two months, Donald Trump will be sworn in as the nation's next commander in chief. With Republicans also controlling both the Senator and the House of Representatives, Trump has the ability to push through legislation that many believe is considered too far right-wing for much of the country. In the time before Inauguration Day, Trump and his transition team will fill out the remaining open spots in his cabinet and administration.