Nikki Haley named to be UN Ambassador
President-elect Trump selects South Carolina Governor Haley to serve as Ambassador to the United Nations; first woman named to his administration.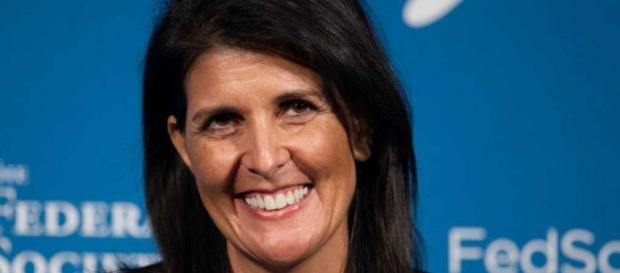 President-elect #Donald Trump has named South Carolina Gov. #Nikki Haley to be the Ambassador to the United Nations -- the first woman named to join his incoming administration.
In a statement posted on Twitter, Haley, who had criticized Trump during the campaign and had put her support behind his rival for the Republican nomination, Florida Sen. Marco Rubio, says she has accepted the nomination, citing what she termed a "sense of duty." She also said in the statement that she was satisfied with "what we have achieved" in South Carolina during her six years as governor.
"Our country faces enormous challenges, here at home and internationally," Haley said.
"Last week President-elect Trump asked if I would meet with him to discuss those challenges, which I was happy to do." She will still need to be confirmed by the U.S. Senate.
Haley first woman named to Trump administration
Besides being the first woman named to serve in the Trump administration, Haley was also the the first woman to be elected governor of South Carolina. She's also the second Asian-American of Indian descent to serve as a governor in the United States, and at the age of 44 she's the youngest serving governor in the country.
Dr. Ben Carson expected to be named to cabinet post
Naming Haley adds diversity to Trump's team after critics noted his first several selections were all white men. Dr. Ben Carson -- who ran against Trump for the Republican nomination -- is expected to be named to a cabinet post, possibly as soon as this week.
In a Twitter posting Trump acknowledged that he's "seriously considering" Carson to head up the Department of Housing and Urban Development. Carson would be the first African-American selected to serve in the Trump administration.
I am seriously considering Dr. Ben Carson as the head of HUD. I've gotten to know him well--he's a greatly talented person who loves people!

— Donald J. Trump (@realDonaldTrump) November 22, 2016
Also rumored to be considered for a cabinet post is Tulsi Gabbard, a Democrat who represents Hawaii in the House of Representatives. The 35-year-old Gabbard is the first American Samoan and first Hindu to serve in Congress.
After the two met at Trump Tower Gabbard said in a statement that she and Trump had a "frank and positive conversation" about foreign policy issues, but she declined to say if she was being considered for a post in his administration. #UN Ambassador