New confrontations between pipeline protesters and North Dakota police
The police used tear gas, rubber bullets and water cannons against protesters.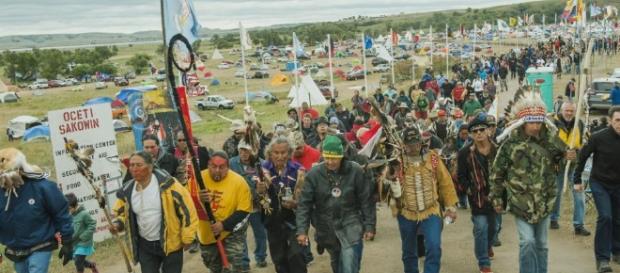 Pipeline almost complete
Since it was announced, the Dakota Access project this summer (worth $3.7 billion dollars and owned by Energy Transfer Partners), this project has sparked the revolt among the Native Americans and the activists. The pipeline will have a total length of 1,172 miles or 1885 km, and much of this length has already been done. For now, Energy Transfer Partners awaits approval for commencing the works under the Lake Oahe, which is located near Standing Rock reservation. The company that owns the pipeline say that this pipeline will quickly and directly link the Bakken oil shale from North Dakota with the U.S. Gulf Coast refineries.
Against sacred traditions
Although Energy Transfer Partners argue that this pipeline provides a safer alternative than oil transportation by road or rail, Native Americans and activists argue that this pipeline represents a threat regarding freshwater resources, sacred tribal lands and ultimately for climate change. In this protected area of Standing Rock Indian Reservation, Native Americans tribes have successfully kept their traditions, but this pipeline is a profanation of these sacred lands.
Abuse of authority
About 400 protesters stormed Backwater Bridge and tried to force their way, these actions being described as a riot in progress by the Morton County Sheriff's Department. In order to scatter the crowd, the police used tear gas, rubber bullets and water cannons with sub-freezing temperatures.
Despite all these efforts, with protesters wounded and one arrested, overnight at the scene nearly 200 protesters have remained loyal to their cause. The clashes of the day occurred after protesters moved a truck that was on the Backwater Bridge since October 27th, this bridge being closed by The North Dakota Department of Transportation because it was badly damaged in one incident. It remains to be seen what impact these new waves of protests will have, and ultimately if the protesters will win this battle against these corporations. #North Dakota Pipeline #News