National Lawyers Guild sues Morton County for 'excessive force' against NoDAPL protesters
Guild seeks injunction to prohibit use of water cannons, rubber bullets, other devices against Dakota Access Pipeline protesters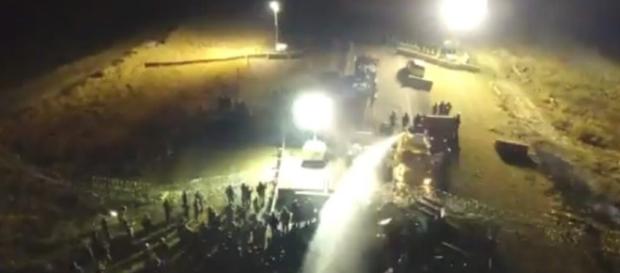 The #National Lawyers Guild is suing Morton County and its sheriff for using what the guild says was excessive force against protesters demonstrating against the Dakota Access Pipeline.
In a class action suit filed in federal court against the county, Sheriff Kyle Kirschmeier and others on Monday, the guild is seeking an injunction that would prohibit Morton County sheriff's deputies and law enforcement personnel from other agencies from using water cannons, rubber bullets, lead-filled bean bags, tear gas and other chemical agents against the protesters.
Suit filed after violent confrontation
The suit comes after a violent confrontation between police and protesters that began on the night of Nov.
20 and continued into the next morning. In the lawsuit -- filed on behalf of nine demonstrators who were injured in the melee -- lawyers for the guild say law enforcement used "violent, excessive, military-style force" against the protesters. The suit also claims that when police started dousing the crowd of demonstrators with water cannons and firing their other so-called non lethal weapons, they did so without warning and without giving demonstrators a chance to disperse.
"The Morton County Sheriff's office not only violates the constitutional rights of peaceful protesters, but their actions highlight the long history of abuse against Indigenous peoples," Brandy Toelupe, a guild lawyer said in a statement. "From the beginning, governments have used their latest technologies to take land and resources from Native nations and oppress Indigenous peoples.
Sheriff Kirchmeier's actions make it clear that nothing has changed," the statement said.
Sheriff's officials say they were dealing with a riot
Morton County sheriff's officials have been defending their actions that night, claiming they were dealing with what they termed was an "ongoing riot." The sheriff's department said hundreds of protesters had tried to get past a highway bridge that had been blocked for weeks, while also setting a number of fires.
"Protesters in mass amounts, estimated to be around 400, are on the bridge and attempting to breach the bridge to go north on Highway 1806," the department said in statement at the height of the clash. "Protesters have started a dozen fires near the bridge."
Protest leaders say 200 were hurt
But the protesters -- who call themselves "water protectors" because they say the pipeline would endanger the water supply for the Standing Rock Sioux reservation -- have denied it was a riot, maintaining they were acting peacefully. Protest leaders say that nearly 200 people were hurt in the confrontation.
Besides seeking an emergency order that would prohibit law enforcement from using water cannons and other devices the National Lawyers Guild says are dangerous, the suit is also seeking unspecified damages.
The lawsuit by the guild, which says it is the oldest and most extensive network of public interest and human rights activists working within the legal system, comes after The American Civil Liberties Union had blasted law enforcement for using what the ACLU termed "life-threatening crowd-control weapons" against the demonstrators. #NoDAPL #Dakota Access Pipeliine