Mom and daughters missing in Tennessee fire -- on phone at home as flames moved in
A husband last spoke to his wife and daughters on Monday night telling them to call 911 and get out of there as fire was getting too close to home.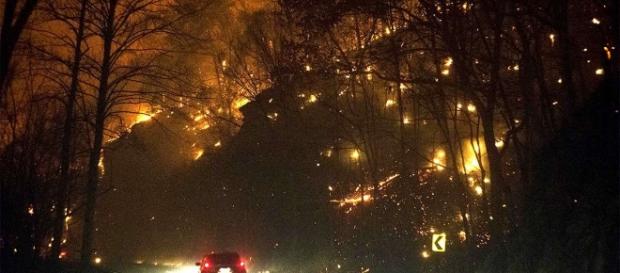 A Tennessee father is desperate to find his wife and daughters who were at home in Gaitlinburg when he last spoke to them. His wife said the flames were across the street from their home at the time. Michael Reed and his son attempted to get to their home but the traffic was their first obstacle. By the time the dad and his 15-year-old son reached their home the entire street was engulfed in flames.
Home when flames reached across the street
When he last spoke to his wife and daughters on Monday night, he told them to call 911 and get out of there. Reed is beside himself waiting for word on his wife Constance and his two daughters, Lily, 9, and 12-year-old Chloe.
He and his son, Nicholas, are staying at an evacuation center where people who are displaced from the fire are bused. He is hoping his missing wife and daughters show up there.
Reed has posted pictures of his wife and daughters to the social media sites in hopes that someone has seen them. The Twitter post can be seen below.
HELP FIND THESE GIRLS! Michael Reed hasnt seen his wife Constance or daughters Chloe&Lily since last night. Evac'd off Wiley Oakley rd @wbir pic.twitter.com/paGkpUw0Ml

— Brittany Bade (@BrittanyWBIR) November 29, 2016
Father and son wait
All Reed can do now is hope and pray that his wife and daughters did make it out of the fast moving inferno that has overtaken a good deal of area around the Great Smoky National Park. The evacuation center is in the neighboring town of Pigeon Forge, where Reed and his son are awaiting word on their three family members, reports NBC News.
Death toll may rise as devastated areas searched
The death toll stands at three so far from these fires, but this number may rise once the areas of devastation are completely searched for survivors and casualties. The firefighters and first responders have not been able to search all the areas as of yet that were devastated by the raging fire.
NBC reporter acts as liaison
The emergency evacuation order is still in place for the city of Gaitlinburg and the buses continue to transport the residents of that town to the Pigeon Ford evacuation center. A local NBC News reporter, Brittany Bade, has become somewhat of an unofficial liaison between the public and the family who is missing the mom and two girls. She is updating her Twitter page on this family.
So far there is no word on the missing mom and daughters. Bade's last update conveys Reed and his son are still awaiting word on their family members today. #Tennessee fires #Mother and daughters missing #Gaitlinburg fire