Merkel allegedly reverses immigration stance, Germany may deport up to 100,000 refugees
German chancellor Angela Merkel may be bowing to populist pressure amid plummeting approval numbers.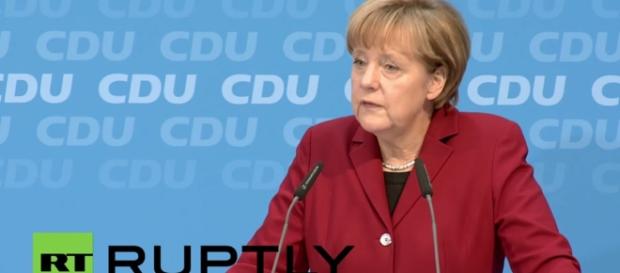 Chancellor #Angela Merkel's long-standing policy of welcoming Syrian and other Middle Eastern refugees into #Germany with open arms has led to a populist uprising, throwing a large roadblock in Merkel's path as she seeks a fourth term as chancellor. In an effort to boost her sagging popularity, Merkel has made a shocking announcement-- that she will deport approximately 10% of recently arrived refugees and migrants, using force if necessary.
Migrants may be forcibly removed
Chancellor Merkel spoke at a conference in Neumünster this weekend to conservative members of parliament, where she stated that she expects 100,000 migrants to leave Germany by the end of 2016 and that a significant number of these migrants will be "forcibly removed", reports the UK's Sunday Express.
Populist party sweeps local elections
Angela Merkel's reversal comes in the wake of stunning local election results which saw the chancellor's own Christian Democratic Union (CDU) party trounced by the populist Alternative fur Deutschland party-- an unexpected upset reminiscent of Donald Trump's election victory in the U.S., in which the Republican candidate bested Hillary Clinton by successfully tapping in the populist undercurrent.
Angela Merkel, who announced last week that she would seek a fourth term as the leader of Germany, has seen her poll ratings slump in recent days, leading to speculation that both the CDU and its coalition partner, the Christian Social Union (CSU), would attempt to oust her. Merkel is now embracing an anti-immigrant tone in a desperate attempt to appeal to the ever-increasing number of Germans who are opposed to allowing migrants into the country.
An estimated 215,000 migrants have been denied residency in Germany in the last 18 months, primarily because they had arrived from European and African countries not embroiled in war. While Merkel plans to use force, if necessary, to deport recently-arrived migrants, she also insists that Germany's resources must be focused on refugees from war-torn countries who genuinely need support. #Migrant Crisis