Melania Trump threatens lawsuit against person who posted video about son Barron
The video suggesting Barron Trump is autistic is being deleted and YouTube user is apologizing.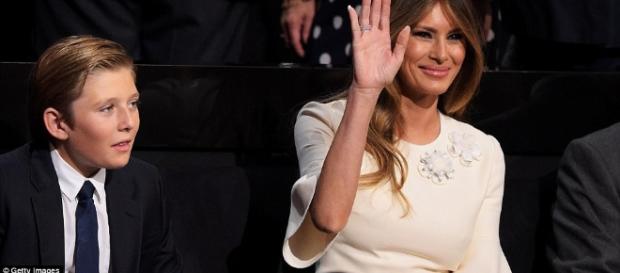 Melania Trump has threatened to sue the YouTube user who posted a video suggesting that her son, Barron, may be autistic. Attorney Charles J. Harder describes the video as a form of harassment and bullying. Harder's law firm represents the first lady-elect and her 10-year-old son. The attorney said the video suggested a misrepresentation of Barron and included false statements because he is not autistic.
The video
A video was posted on YouTube that suggests Barron might be autistic. The seven-minute clip has been viewed over three million times. It features footage of Barron from various moments throughout the campaign.
His mannerisms were called into question. Ironically, the video includes the hashtag "StopTheBullying." However, Harder contends that the video itself is a form of bullying a young child to make him and his parents look bad.
Rosie O'Donnell's explanation
Rosie O'Donnell shared a link to the video on her Twitter page on November 21. She asked if #Barron Trump was autistic. She has been criticized for her question and for sharing the video. Critics say it was not O'Donnell's place to suggest Barron was autistic. They believe that was something that should have been left up to the parents to point out.
O'Donnell gave an explanation on her website. She acknowledged that she meant no ill will toward the child. She disclosed that her 3-year-old daughter, Dakota, was diagnosed with #Autism last September.
She said that if the president-elect's son had autism, it would help others with the condition.
YouTube user James Hunter
After #Melania Trump threatened a lawsuit against the person who posted the video, James Hunter came forward. He has been in touch with Melania's lawyer and promised to remove the video and publish a full retraction and public apology to Melania and Barron Trump. Hunter said he meant no harm towards Barron. He indicated that he was diagnosed at age 5 with autism himself and has experienced bullying because of his mental condition. Hunter argues that he was only trying to raise awareness and never meant to bully Barron.