Melania Trump fashion ignites political war of words between designers
First Michelle Obama's fashion designer posts an open letter refusing to dress incoming first lady, now a famous designer diplomatically scolds her.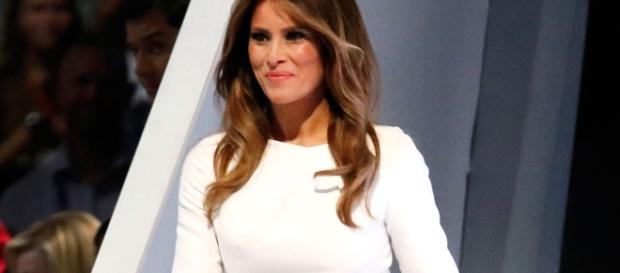 The subject of #Melania Trump #fashion and politics surrounding it have ignited a war of words between designers. While not as down and dirty as the presidential race itself, its aftermath is long-reaching -- so much so, that its tentacles have created a new platform unprecedented in the world of fashion design. Is it now a political statement to dress the next First Lady of the United States?
Dressing Melania Trump just got political
The drama kicked off just last week when one of Michelle Obama's fashion designers, Sophie Theallet, wrote an open letter outright refusing to ever dress Mrs. Trump due to her husband's caustic and divisive presidential campaign.
The New York-based French designer penned a letter openly admonishing Donald Trump and the rhetoric of "sexism and xenophobia" used in his campaign, lecturing that those are not values she lives by. The designer continued that she in no way will be "associating" with the next First Lady, touting that Michelle Obama represents everything she and the fashion industry embrace -- diversity and acceptance of all individuals.
Theallet has called on other designers to follow her lead, which none have publicly done. People magazine did report that some have refused to dress Melania and other women in the Trump family throughout the presidential race. Renowned designer Tommy Hilfiger voiced his own response to Theallet's open letter, while others in the industry remain silent. He told Women's Wear Daily that any designer would be "proud to dress Melania," and, "I don't think people should become political about it."
Angela Guitard, the owner of a fashion boutique in Rye, New York known as "Angela's," wrote Theallet an email to say what she did was "a slap in the face" to herself as an immigrant-turned-U.S.
citizen, adding that she wouldn't feature any of her collections in her store. Guitard informed Theallet that she was "ignorant" in her message about refusing to dress Melania Trump as First Lady, and that she shouldn't push her political views on others through social media as a tool for self-promotion.
Incoming First Lady guilty by association?
The Melania Trump fashion firestorm may be just the beginning of this designer infighting. Like it or not, the president-elect's wife is guilty by association in the eyes of at least one -- or possibly more -- fashion designers. Rest assured that the next first lady will have no shortage of world-class designers at her doorstep once her husband takes office. #Donald Trump