Melania Trump and son Barron won't move into White House right away
Trump Tower has been called 'the New York White House' because Melania and son Barron will continue to live there initially.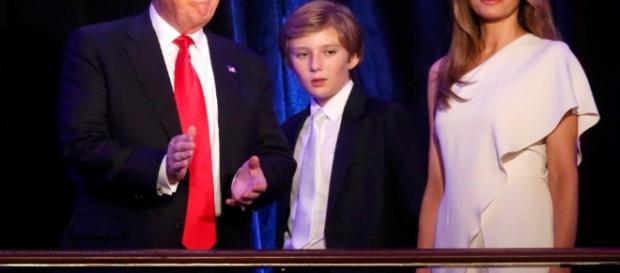 Presidents usually move into the #White House with their families as soon as they are sworn in. That won't be the case this year after Inauguration Day on January 20, 2017. President-elect Donald Trump explained to reporters that after he takes the oath of office he will live in the White House. However, his wife Melania and their 10-year-old son Barron will still live in New York to allow Barron to finish out the year at his Upper West Side private school. He is in the fourth grade there, and the annual tuition is $40,000.
Melania's decision
The 46-year-old wife of the president-elect reportedly will travel to the White House as needed, but her main focus will be taking care of Barron.
A person on Trump's transition team revealed that Barron has had difficulty adjusting to the campaign, and Melania wants to keep his transition free from as much disruption as possible. Even though there is a good reason for Melania and Barron to stay in New York until the end of the school year, one source says there are no plans in place for them to ever move to the White House.
The White House of New York
Because Melania has decided to stay in New York, there will be added security around Trump Tower that will involve not only the Secret Service but also the New York Police Department. Therefore, Trump Tower is going to become the White House of New York, according to Jim Reese from a global security company in North Carolina. Since the presidential election, the building has been heavily guarded, and two of the five lanes on Fifth Avenue are closed.
Drivers have described the area as a traffic nightmare. Shoppers find it very inconvenient for them especially so close to the holidays.
The future First Lady will have an unknown number of Secret Service agents assigned to her. Barron will also have an unknown number of agents assigned to him in addition to a driver and an armored vehicle to take him to and from his elementary school. Each morning the school will be canvassed by an advanced team of agents to make sure it's safe. The Secret Service will definitely have a lot to do during the Trump administration. #Melania Trump #Donald Trump