Melania and Barron Trump won't live at the White House, staying behind in NYC
Melania agreed to stay put at the penthouse so Barron can attend his private school. Critics wonder if the Trumps' are having marriage troubles.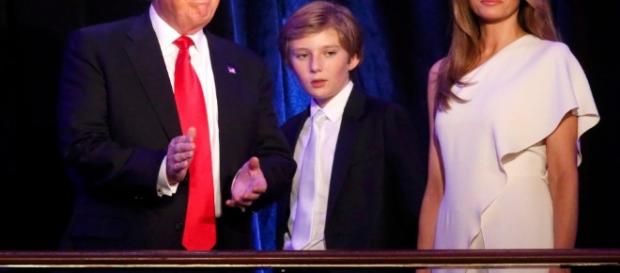 The future First Lady, #Melania Trump, and son Barron will not be moving to White House after Donald Trump's inauguration in January, NY Post reported. The president-elect's wife and their child are staying put in the couple's penthouse so that he can continue to go to his Upper West Side private school.
Barron needs stability
Melania wants to give Barron stability because the campaign was extremely difficult for him. They want to keep the disruption to his life to a minimum. The president-elect's son expressed that he wanted to stay in NYC to go to school with his friends, at least until June. It isn't known at the time of writing this if Melania plans to move into the White House full-time after the school year is over.
She did state that if her presence were needed, she would fly to D.C. to attend whatever function Donald would need her to.
Melania and Barron Trump staying at #TrumpTower so Barron can stay at the same school. IT'S CALLED GOOD PARENTING! @realDonaldTrump #family pic.twitter.com/rFQrmaMhiP

— Citizen Dale (@Trumptbird) November 20, 2016
Melania is a 'hands on' mom
Melania takes her role as a mother very seriously. Apparently, unlike many other wealthy mothers, she doesn't rely on nannies or other child care workers to help raise her child -- she does it all herself. She can often be seen taking Barron to, and picking him up from private school. Barron's school tuition costs nearly $40,000 per year.
More security to protect Trump's family?
The decision to stay in NYC means that there will have to be more security around Trump Tower -- something that ultimately falls in the hands of the Secret Service and the NYPD.
Donald Trump's critics explain that it could cost taxpayers millions over the course of a four-year presidential term to protect his family in New York City.
Melania and Barron Trump won't be moving to the White House because previous owners made it unlivable pic.twitter.com/BnhoV6A3Iy

— Jenna Abrams (@Jenn_Abrams) November 20, 2016
Barron and Melania will have an unknown number of Secret Service agents assigned to them, as well as a driver and armored driver vehicle to take the fourth grader to school each day. And, an advance team of agents will swoop down before he arrives at the school, just to make sure it is safe for him to go in the school building.
Trumps headed for divorce?
A popular rumor speculates that Melania wants to leave Donald, so living away in New York City for Barron is an easy way to live separately from her husband. Of course, this is nothing but a rumor and is likely untrue.
What do you think about Melania and Barron Trump living in New York City instead of in the White House? #News #Politics