Melania and Barron Trump not moving to White House -- campaign was 'difficult' for Barron
Times are changing as the new First Lady and young son Barron won't move into the White House with President Donald Trump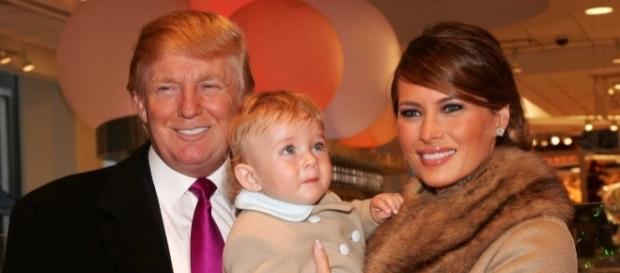 #Barron Trump will not be moving into the White House, and Melania will stay at home in Trump Towers with their 10-year-old, so his schooling won't be interrupted. Melania will travel back and forth to the White House as needed, but she and her young son Barron will hang their hats in the Big Apple.
Campaign 'difficult' for Barron
According to the New York Post on Sunday, the campaign has been "difficult" for Barron and Melania is hoping to keep some continuity in her young son's daily life by staying in Trump Towers. Melania is close with her son, and since the campaign brought chaos into their lives, they've grown even closer.
Mom and son stay behind
This doesn't take away from the support Melania offers her husband #Donald Trump when it comes to him being the 45th president of the nation. She is very supportive of her husband and he, in turn, is of her wishes to remain in Trump Towers with Barron.
New York City White House
With Melania and Barron in New York, Trump Tower will become the second White House and it will receive security from both the Secret Service and the NYPD. Donald Trump not only gave up running his businesses, but now he will live separate from his family, which is a lot to give up. This can only speak to how serious the man is about wanting to get this country up and running in the right direction.
Barron is young, and he was not raised by nannies as Melania has been a hands-on mom since the day he was born.
He attends a private prep school in the city which cost $40,000 per year. The youngest son of Donald and #Melania Trump is in fourth grade.
Summer vacation at White House?
When school lets out for the summer, Melania and Barron might move down to Washington and stay in the White House, but that is up in the air at this time. For now, the mother and son need to get used to all the Secret Service surrounding them every minute of the day and night along with all the extra attention from the public.
Secret Service everywhere!
Trump Towers has been barricaded taking up two lanes of the five-lane street running along Trump Towers. Barron's trip to and from school will be in an armored vehicle with an undisclosed number of Secret Service agents assigned to him while at school. This is an awful lot of commotion for the lad to take in.
This will also be a change for Barron's school mates as the Secret Service will need to sweep the entire school each and every school day before classes get underway. It seems life is disrupted greatly for the kids of the president, much more than many folks realize.