Megyn Kelly destroys Donald Trump for 'making up information' about fake voter fraud
Megyn Kelly was quick to throw some serious shade on Donald Trump for pushing debunked voter fraud claims as truth.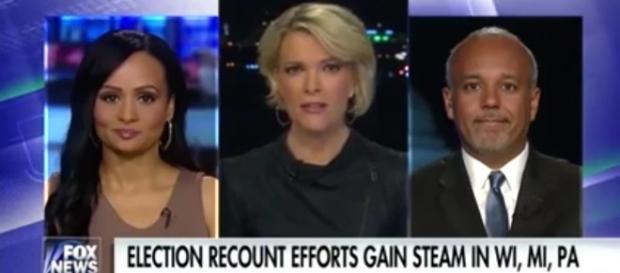 #Donald Trump is the new president-elect, but for millions of Americans, that still doesn't make much sense. After allegations of possible election hacking, a recount was filed in Wisconsin by the Green Party's Jill Stein, prompting Trump to fire back with debunked claims.
Kelly fires back
Following the announcement that the recount in Wisconsin was officially filed, Donald Trump took to Twitter to voice his opposition. In an attempt to counter the claims of pro-Trump hacking in Wisconsin, Pennsylvania, and Michigan, the billionaire real estate mogul said there was voter fraud going on in three other states he believes held bias in favor of Hillary Clinton.
Trump listed California, Virginia and New Hampshire, asking "why isn't the media reporting on this? Serious bias - big problem!" In a follow-up tweet, Trump said that the only reason he lost the popular vote was due to millions of illegal immigrants voting for Clinton. Both claims have since been debunked, and was a topic of debate during the November 28 edition of "The Kelly File" on #Fox News, as reported by Mediaite.
(Kelly's comment start at 4:35 in the above video)
Joining host Fox News host #Megyn Kelly was network contributor Mo Elleithee and former Trump campaign national spokesperson Katrina Pierson. Kelly pressed Pierson on why Donald Trump would have to create unproven propaganda to defend himself in an election that he won. Pierson was only able to point to a select few examples of voter fraud, which Kelly quickly dismissed, before asking, "Why do you want anyone looking at anything when your team won?!"
Megyn Kelly: Why Does Trump 'Have to Make Up Information' About the Vote When He Won? https://t.co/CVmepvKjwF (VIDEO) pic.twitter.com/mVvM0bfPc3

— Mediaite (@Mediaite) November 29, 2016
After Pierson said that the former host of "The Apprentice" was only trying to put information out there that the media is not covering, Kelly responded.
"He should stick to the facts," Kelly told Pierson. "Why isn't it enough for him that he won the electoral college?," Megyn Kelly asked. Not stopping there, the popular Fox News host wondered, "Why does he have to make up information that he also won the popular vote, which he lost?"
Officials throughout the US blast Donald Trump's unproven allegations of voter fraud https://t.co/dU3aiSVtbM pic.twitter.com/gBvTpmXQMa

— CNN (@CNN) November 29, 2016
As Kelly was making her comments, Donald Trump lashed out on Twitter in a multiple-tweet attack directed at CNN's Jeff Zeleny, who had previously debunked the aforementioned claims. The president-elect referred to Zeleny as a "Bad reporter" and informed CNN to "do your job" in a series of re-tweets.
Moving forward
Next up for Donald Trump is his continued search to fill the remaining spots in his cabinet and administration. The most highly anticipated announcement is in regards to who will become the next Secretary of State, which is reportedly down to former Massachusetts Gov.
Mitt Romney, former New York City Mayor Rudy Giuliani, and retired Gen. David Petraeus.