Man knocked off interstate highway bridge into Snake River after crash survives ordeal
Idaho man had stopped on the Snake River Bridge to help another driver, when the impact of a second crash tossed him into the Snake River below.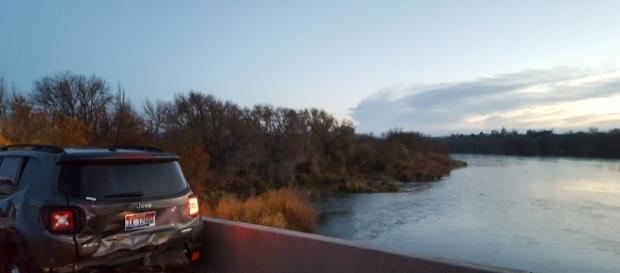 An Idaho man is lucky to be alive after surviving a harrowing and painful ordeal that began when he was hit by a car as he stood on a bridge, thrown over the railing of the span and tumbled 50 feet into the icy waters of the #Snake River.
#Oregon State police officials say the trouble for Steven Arrasmith began when he stopped his Jeep as he crossed from Idaho into Oregon on I-84 on the Snake River Bridge to help another motorist who had lost control of his vehicle on black ice on the bridge and crashed. After he had stepped out of his Jeep another car lost control on the ice and hit the Jeep, pushing it forward into Arrasmith, who was then thrown over the bridge's railing.
Police say despite suffering a "serious injury" from the impact, the 34-year-old Arrasmith tried to hold on to the railing, but fell into the river below.
Despite being injured and the fall into the river, was able to swim to an island
Despite the injuries he suffered in the second #crash, the fall, the cold water, and the weight of the heavy clothing he was wearing, Arrasmith was able to make it to an island in the river.
"In the darkness, Arrasmith managed to shed heavier clothing and swam to a nearby island," police said in a statement. "First responders could hear him yelling for help, and soon after rescued him," the statement said.
Focusing on young son helped him survive
Arrasmith, who is from Mesa, Idaho, was taken to a local hospital. He later told the Idaho Statesmen that he had suffered a broken femur, and said that focusing on his young son helped him survive the ordeal.
"I thought about my 7-month-old son, how I have to be there for him," he told the newspaper. "That was my drive and desire."
The 41-year-old driver of the car that Arrasmith had stopped to help was not hurt, while the 68-year-old driver of the car that hit Arrasmith's Jeep suffered minor injuries.
On the same day that Arrasmith survived his ordeal, state police said that ten people were killed in crashes on Oregon's roadways in the past week. They're urging people to be careful in the colder weather and as the Thanksgiving holiday approaches.