Macy's Thanksgiving Day Parade protected by NYPD counter-terrorism forces [Video]
After ISIS declared the Macy's Thanksgiving Day Parade an "excellent target," the NYPD have gone into all-out protection mode.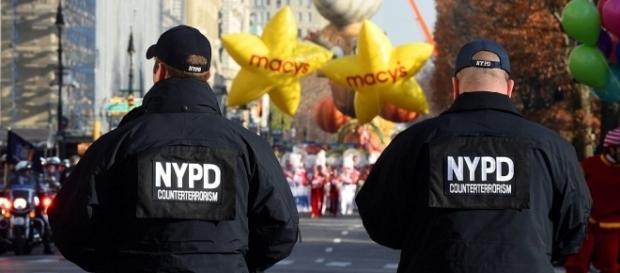 A balloon by the name of Trixie the Dog will be heading the Macy's #Thanksgiving Day Parade on Thursday morning, but real dogs will be working to make sure the crowds are safe. With #New York City expecting around 3.5 million New Yorkers and visitors to be present and enjoying the spectacle, the NYPD just isn't taking any chances.
'Vapor wake' dogs on duty at the Macy's Thanksgiving Day Parade
Eight well-trained police dogs will be using their ultra-sensitive noses to sniff out any trace of explosives. Dubbed "vapor wake" dogs, they are a key part of the plan to ensure everything is safe and those wanting to enjoy the parade can do just that.
According to Chief Jim Waters, head of the NYPD's counter-terrorism operation, the dogs will sniff the displacement of air running past your body. Where humans would smell your cologne or perfume, the "vapor wake" dogs will pick up any trace of explosives emanating from a terrorist's body.
Waters continued by saying this allows the Labrador dogs to work a large area in the crowd with just the right wind direction, rather than approaching a package and sniffing it. He continued by saying the dogs are part of a massive anti-terror effort by the NYPD, which takes unprecedented precautions to protect New Yorkers and visitors alike.
🚨Breaking US Terror Alert! MUSLIMS plan to Truck Bomb Macy's Thanksgiving Parade in NYC as Americans brace👇 #AMAshttps://t.co/IKwyOxdfFB

— Vegas4Trump (@trump2016fan) November 21, 2016
Critical Response Command to protect Macy's Thanksgiving Day Parade
As reported by Fox News, during the parade, each cross street along the route will be blocked to prevent any vehicle using the same methods as the assault in Nice, France back in July this year.
Police will be using a total of 82 sanitation trucks filled with around 16 tons of sand as barriers. For the first time, and after a year of intense drilling, the NYPD will be using its Critical Response Command to work the parade with long guns. Among the 3,000 police officers on duty on Thursday there will be more than 500 Critical Response Command officers on duty, along with plain-clothed police, police helicopters and radiation detectors.
ISIS calling for lone wolf truck attacks mowing down people NYC Macy's Thanksgiving Day parade!!! pic.twitter.com/ikxii1ofiB

— John T Dolan (@JohnTDolan) November 14, 2016
Speaking to NBC, Waters said that this year will see a much more "robust counter-terrorism presence" in the streets during the Thanksgiving Day spectacle. He said that after all the propaganda from al-Qaeda and #ISIS, they are just not taking any chances, but the NYPD and the mayor do say there is "no credible threat," and urge people to come and enjoy the parade.
Enjoy a sneak peek at the new balloons that will be in the streets of New York City on Thursday in the video included below.