Kellyanne Conway rips Mitt Romney, urges Trump to avoid him as Secretary of State
Kellyanne Conway is urging Donald Trump not to pick Mitt Romney to run the State Department.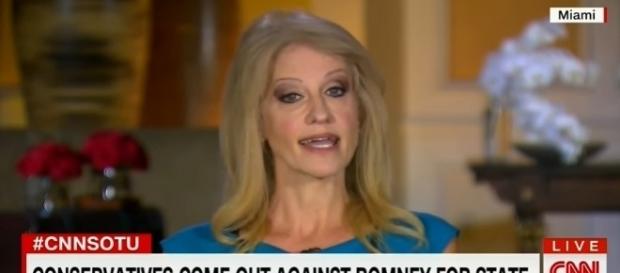 Since winning the 2016 election and defeating Democratic nominee Hillary Clinton, all eyes have been on who #Donald Trump will surround himself with in the White House. Trump has been criticized for some of his most recent selections, but who will fill the role as the next Secretary of State is garnering the most attention.
Conway criticism
Donald Trump has caused backlash in the media and with his political opponents over the last two weeks, especially with some of his top cabinet choices. Adding Breitbart News' Steve Bannon as Chief Strategist, and retired Gen. Michael Flynn as National Security Advisor have made the most headlines.
To run the State Department, the two finalists for the position are reportedly former Massachusetts Gov. #Mitt Romney, and former New York City Mayor Rudy Giuliani. This issue was discussed during a CNN segment on November 27, as reported by Mediaite.
Joining CNN host Dana Bash was former Trump campaign manager #Kellyanne Conway. Earlier in the week, Conway tweeted out her opposition to Mitt Romney taking the job, pointing out how others are warning against the former 2008 Republican nominee. When asked about this. Conway doubled down. "I would hope so," Conway said when asked if Romney could be loyal. Conway said she had heard from many Trump supporters who "felt betrayed" by Romney for opposing the president-elect during the election.
Conway Tears Into Romney Amid Sec. of State Talk: He Went 'Out of His Way to Hurt Trump' https://t.co/qvDJIy1Hm6 (VIDEO) pic.twitter.com/guAI7V61Zn

— Mediaite (@Mediaite) November 27, 2016
"The number of people who feel betrayed that Gov.
Romney would get the most prominent cabinet post after he went so far out his way to hurt Donald Trump," Kellyanne Conway said. "He (Romney) gave speeches against Donald Trump," Conway continued, before adding, "he attacked his character." Conway noted that if Mitt Romney was selected, Trump would be supported in his decision, but also made sure to remind Bash that the former governor "lost spectacularly" when he ran for president.
Trump's pick
It's unknown when Donald Trump will decide who will become the next Secretary of State, though an announcement is expected in the next few weeks. The billionaire real estate mogul is scheduled to be sworn in as the next commander in chief on January 20, and until then will continue to work with his transition team to fill the remaining spots in his cabinet.