With only one day left in the 2016 election, the pressure is on both candidates to end on a positive note and deliver a strong closing message. For Donald Trump campaign surrogates, the end of the line can't come soon enough.
Trump giving
For the first time since 1976, a major presidential candidate will get away with not releasing at least a year of tax returns. Citing a current audit by the IRS, Trump has refused to released his financial information.
Despite an IRS audit not legally preventing Trump from releasing his tax returns, the billionaire real estate mogul has still kept them private. Various reports over the last few months have exposed portions of Trump's tax history, showing that the Republican nominee might not have paid federal income taxes for the last 18 years. Trump has also been found not to donate as much to charity as he claims, but it's impossible to know the exact numbers without the full tax returns made public.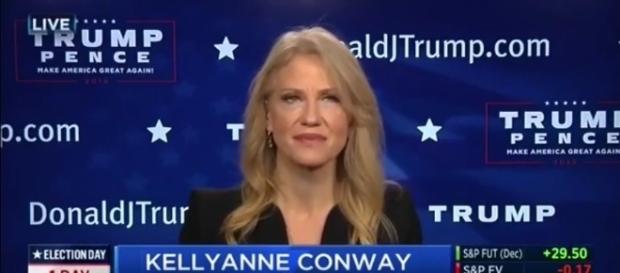 These issues were discussed on the November 7 edition of "Squawk Box" on CNBC, as reported by Mediaite.
(The conversation heats up at 1:15 in the above video.)
Joining the show was Trump campaign manager Kellyanne Conway who had an interesting take about her candidate. When pressed about Trump not being as charitable as he claims, Conway quickly became defensive. "That's just not true!" Conway shouted, "I'm rebutting it, I'm rebutting it right." When co-host Andrew Ross Sorkin cited a recent report in The Washington Post showing Trump only making one personal charitable donation in recent years, Conway scrambled to come to his defense.
Kellyanne Conway: I've Personally Witnessed Trump 'Write Checks' To Charity https://t.co/eIVuXzZEQO (VIDEO) pic.twitter.com/0e5o0FZc7X

— Mediaite (@Mediaite) November 7, 2016
"He's a very generous man," Conway claimed, noting, "I have seen him write checks." Going further, Conway also said that she has "been there when he is writing checks to people." "The fact is, the idea that somebody who made such a tremendous sacrifice to run for president, basically a huge sacrifice," Conway continued, before stating that Trump gives a lot to charity but just "doesn't talk about it."
Final countdown
According to the latest Real Clear Politics rolling average, Trump is trailing Hillary Clinton by just 1.4 percent on a national level.
While the former host of "The Apprentice" has inched closer over the last week, his doors of opportunity to reach the required 270 electoral votes are starting to close. Most pollsters are predicting a tight race, but give the edge to the former Secretary of State as the election reaches its final day.
Click to read more
and watch the video