Kate Middleton's unprecedented child rearing of her royal brood has folks taking notice
While not a speck of royal blood runs through their veins, Kate Middleton's family is very much a part of the Royal Family when it comes to the kids!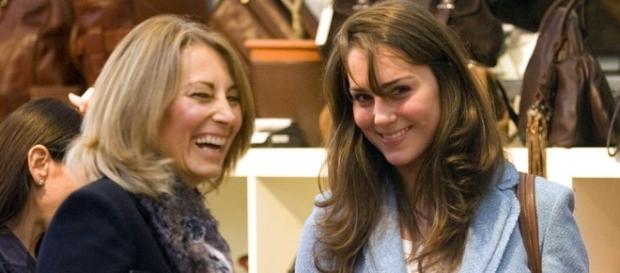 She's called "#Kate Middleton's secret weapon" and in a world of royal protocol, Kate really needs someone like her mom on her side! #Carol Middleton is there when help is needed with her two grandchildren, much like other grandparents around the nation. The only thing that is different for Kate's mom is that her grandchildren happen to be the prince and princess of the nation she calls home.
Kate's 'secret weapon'
Despite all the rumors of Carol changing since her eldest daughter joined the ranks of the royals, she's still the same old Carol Middleton, according to her neighbors and friends. The only difference from before and after Kate's royal union is that Carol loves being a granny today.
Wonderland for her grandchildren
Tucked away in the countryside about 50 miles outside London is the home belonging to Kate's parents, Michael and Carol Middleton. Carol has made the grounds of their Bucklebury home a wonderland for her grandchildren.
A pond surrounded by a garden with ducks and chickens scattered throughout is a place that Prince George and Princess Charlotte love to visit. The Middleton family home is also a place where Kate and William come to get away from the hustle and bustle of royal life. Carol is playing a big part in raising her royal grandchildren, reports People Magazine.
The Queen and Carol
Despite the rumors that the Queen has never really warmed up to the Middleton family, this doesn't seem to be the case at all. She invited Carol to sit in the front seat of her Range Rover, reports People.
That's not a seat given to just anyone! It was Carol and Michael who watched over George and Charlotte when Kate and William went to India this spring.
Hands-on
When Kate attended the royal Easter mass, it was Carol who was by her side helping her keep on eye on the kids. She filled in for William who was in Africa over the Easter holiday. Carol Middleton has "taken an unprecedented role" in the raising of the royal children of Kate and William, reports People.
The Easter outing at the church may have proved too-long for Charlotte, who was overheard experiencing a few fussy moments. While Kate held her daughter, Carol was right there attempting to soothe her granddaughter.
Life's the same
Carol and Michael haven't changed a bit since their daughter became part of the Royal Family. Friends still meet with Carol at the local pub for a glass of wine and a bit of "gossip," writes People. Carol is doing things that were once only left to a governess to attend to with the children or royals.
This speaks to Kate's ideas of bringing her kids up as normally as possible while still being part of the the nation's first family.
It's all about normal things in life!
She's a hands-on mom and Kate, like many other young mothers in the nation, counts on her immediate family for back-up babysitting when needed. In Kate's case it's her mom who helps with the kids. From all reports, Carol Middleton is thrilled to do this for Kate, William and her two grandchildren. It looks like the Middleton family has changed #The Royal Family's ideas on child rearing!