Israeli PM Netanyahu booed at Hamilton prior to rude display lodged at VP-elect Mike Pence
Prior to audience members and cast booing VP-elect Mike Pence, Israeli Prime Minister Benjamin Netanyahu was also heckled as he entered the theater.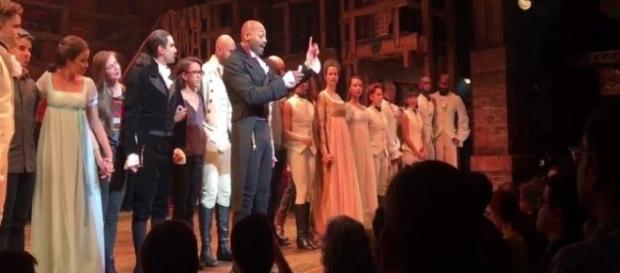 Vice President-elect #Mike Pence's enthusiasm for the Broadway smash hit, Hamilton, was met with an equally unenthusiastic response from its cast and crew recently when he was not only booed, but also lectured by one of the shows prominent actors. According to Grabien News, the show that openly embraced former Presidential candidate Hillary Clinton during her recent visit, proved itself hostile to Pence when he and his Secret Service detail were met with boos and heckles as they entered Manhattan's Richard Rogers Theater.
The diverse America
As the show was concluding, #Hamilton cast member Brandon Victor Dixson, who stood center stage backed up by the entire cast, peered up at Pence who occupied a balcony seat.
The actor confronted Pence directly, stating that he represented a diverse America that's alarmed and anxious that the new Trump administration will not represent the planet nor all the families that occupy it. He added that he hoped the show would inspire the VP-elect to uphold American values.
Hamilton performances notoriously political
Last May, Hamilton's creator, Lin-Manuel Miranda, was said to have condemned then Presidential candidate Donald Trump's tough stance on anti-illegal immigration during a commencement address delivered for UPenn. It should be noted that Miranda deliberately left out the modifier 'illegal' when expressing his opinion about anti-immigration. He said that Hamilton, a show made up entirely of people of color, reminds us that America is a great experiment and that immigrants always get the job done.
Miranda also performed Hamilton at the White House for President Obama, who has personally taken a bow over the show's success, having said that Miranda and the show's cast owes him because the White House is where it all began.
Prime Minister Benjamin Netanyahu berated
Back in September, Prime Minister Benjamin Netanyahu came to the play to be entertained and was immediately met with jeers and boos as he took his seat. According to Page Six, the show was delayed somewhat due to heightened security needs, which included airport-style body scanners. As Netanyahu entered, many applauded. But there were also many boos.
After the Orlando Islamic Jihad-inspired terrorist attack at a packed Orlando nightclub this past June, the Hamilton cast announced that it would no longer utilize muskets during the performance, as though guns were the primary reason behind the mass nightclub shooting and not Jihad. Weeks prior to that, Hamilton issued a statement that the show would be excluding white actors for consideration. #Benjamin Netanyahu