Hundreds of veterans to join Standing Rock pipeline protesters
Wesley Clark Jr., hundreds of other veterans to join demonstrators trying to stop completion of the Dakota Access pipeline.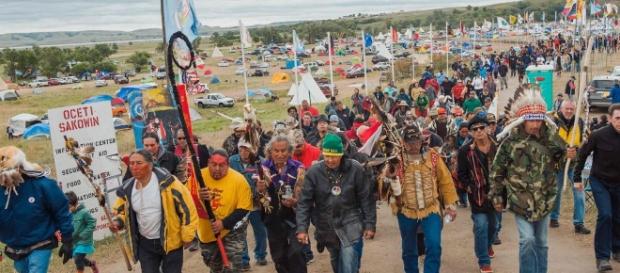 Hundreds of military veterans -- including Wesley Clark Jr. -- a former Army officer and son of the more well known general with the same name -- are going to the Standing Rock Indian Reservation in North Dakota to join protesters who are trying to stop completion of the #Dakota Access Pipeline.
Organizers of the group calling themselves "Veterans Stand for Standing Rock" are urging other veterans to join them in forming what they are describing as a "peaceful, unarmed militia" at the Standing Rock Indian Reservation for three days, beginning on Dec. 4.
"We'll be standing alongside peaceful water protectors, who've endured violent attacks from the private security funded by #DAPL and more brutality and arrests at the hands of militarized police and DAPL security," the group said on gofundme page it set up to raise money to pay for food, gas and expenses for the effort.
"We have full support of the Sioux tribe elders and will be cooperating with them every step of the way," the statement said. Through late Tuesday the group had raised more than $61,000.
Clark, whose father, Wesley Clark Jr., was a four-star general and served as NATO's Supreme Allied Commander in Europe, is helping to organize the event, along with Michael Wood, who is a Marine Corps veteran, a retired Baltimore police officer, and a vocal advocate of police reform.
"I'm going for religious reasons. I'm not a leader. I'm not in charge. We are self-organizing this," Clark Jr. told CNN. They are hoping for a turnout of 500 veterans.
Clark: call from protester brought tears to his eyes
Clark says he's taking action after an elder from Standing Rock called him about the protests, a call he says "brought tears to my eyes."
Clark was referring to an incident late Sunday when hundreds of demonstrators clashed with police, with law enforcement officers dousing the protesters with fire hoses in below-freezing weather and firing rubber bullets into the crowd.
Morton County sheriff's officials say their tactics were necessary to quell what they described as an "ongoing riot," but protesters deny it was a riot and say that nearly 200 people were hurt in the melee.
Bernie Sanders calling on President Obama to take action
After the incident Vermont Senator and former presidential hopeful Bernie Sanders called for President Obama to step in and take action to stop the pipeline. He also wants the president to send observers from the Justice Department to protect the protesters.
We say to @POTUS, in any way that you can, stop the Dakota Access Pipeline. #NoDAPL pic.twitter.com/QiaeVay6NK

— Bernie Sanders (@SenSanders) November 21, 2016
Protesters say pipeline threatens tribe's water supply
The protesters -- who call themselves "water protectors" because they're trying to stop the pipeline company -- Energy Transfer Partners -- from building the pipeline along a route that would take it under a reservoir that serves as the water supply for the Standing Rock Sioux reservation.
The protesters, who have been camped out for months, also say the pipeline threatens sacred land.
The Dallas-based company says it has gone through an extensive approval process, and that there are a number of safeguards in place to prevent the pipeline from leaking. Company officials and backers of the pipeline also argue pipelines are safer and a more efficient method than trucks or trains in transporting oil. #NoDAPL