Hillary Clinton receives big surprise on Thanksgiving Day
6-year-old boy responsible for leaving Thanksgiving Day surprise to lift Hillary Clinton's spirits.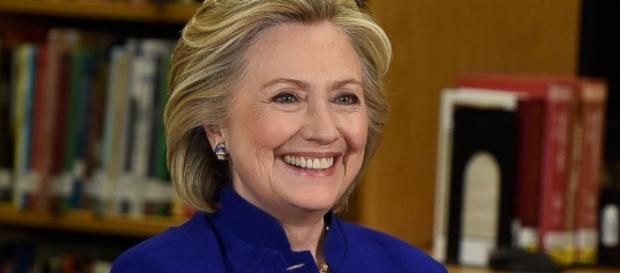 If former Secretary of State Hillary Clinton was still feeling let down after the results of the recent presidential election, she had a big surprise to lift her spirits on #Thanksgiving Day. Anonymous supporters filled her street with heartwarming signs thanking her for her service. The signs also said she was loved and many still support her.
Clinton's tweet
Clinton was so overcome with joy that she took a picture of the display of signs and posted it on Twitter. Her account has been rather silent since the election. She took the opportunity to thank the people who left the signs and to wish them a "Happy Thanksgiving." The signs on the corner of her street near the family's home in Chappaqua, New York were a welcomed surprise.
During her first public appearance after the disappointment, Clinton spoke a week later at an event for the Children's Defense Fund. She said she would have rather stayed home and curled up with a good book with her dogs.
I was greeted by this heartwarming display on the corner of my street today. Thank you to all of you who did this. Happy Thanksgiving. -H pic.twitter.com/b69mW3Oqbf

— Hillary Clinton (@HillaryClinton) November 24, 2016
Young boy responsible for signs
It was later discovered that the signs were the project of a 6-year-old boy named Liam. He cheered for Clinton during the election and cried on election night when she didn't win. Liam told his mother that Hillary needed lots of signs to cheer her up. So Liam's mother asked some friends to help her and Liam. They left the beautiful signs so they would be seen on Thanksgiving Day. Liam's idea did work because Clinton was happy about the expression of love and thoughtfulness (especially on a day to give thanks).
Clinton out and about
Apparently, Hillary is slowly getting out and has been seen by a few people since the election where she won more than two million popular votes over her opponent. She was seen by a young mother in the woods near her home when she and former president Bill Clinton were out walking their dogs. The woman posted a picture of her and her baby with the former Democratic presidential candidate. A bookstore employee in Rhode Island took a selfie with Clinton earlier this week as well. #News #Hillary Clinton